2005 Boonstra Basily Model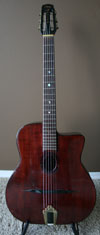 Boonstra
A guitar that lived the true Gypsy life in the hands of Holland's Poppy Basily.
Arts & Entertainment
ger-boonstra-basily
Basily Model
View Offer
DjangoBooks.com
https://www.djangobooks.com/Item/ger-boonstra-basily
2005 Boonstra Basily Model
2005 Boonstra Basily Model
This traditional sounding Selmer copy was built for the Dutch Gypsy virtuoso Popy Basily. Constructed in The Netherlands by Ger Boonstra, this guitar is a Brazilian rosewood lovers dream! It features solid, highly figured Brazilian rosewood back, sides, neck, and fingerboard. Other deluxe features include accurate replica HSC Selmer tuners, tailpiece, abalone inlays, and a bigtone pickup. The tone is very traditional and dry with a slight nasalness in the midrange. You couldn't ask for a guitar that has been more "played in" than this. After six years of constant use at concerts and campfire jams, it has a maturity of tone rarely found in such a young guitar. It has truly lived the "Gypsy life" and has the sound to prove it.

This instrument is in good condition with the normal wear and tear you'd expect from a professionally played guitar. It has numerous small dings and scratches on the top and body. The only one of any significance is on the back near the cutaway where there is a section of binding about an inch long that is scraped up. Although difficult to see, there are small "ripples" which have formed in the finish. It's mostly on the top, but there is also a small section on the back with these ripples as well. One of the screws that holds the tuner's mounting plate is missing. The frets are over 50% worn and will need to be replaced fairly soon. However, it currently plays without any significant fret buzz.

Priced at only $2600, this guitar presents a rare opportunity to own a finely made European instrument at an entry level price. Solid figured woods and replica hardware are normally only found on guitars in the $6000 and above range. Here's a chance to own a premium grade instrument for less.

This is the CASH price...add 3% if you'd like to pay with a credit card. Add 4% for international credit card orders.


| | |
| --- | --- |
| Brand | Boonstra |
| Year | 2005 |
| Model Number | Basily Model |
| Serial Number | Popy |
| Sound Hole | Oval |
| Fret Neck | 14 Fret |
| Condition | Good |
| Size | 15 7/8" |
| Scale Length | 665mm |
| Nut Width | 1 3/4" |
| Top | Spruce |
| Back and Sides | Brazilian Rosewood (Solid) |
| Neck | Brazilian Rosewood (Solid) |
| Fingerboard | Brazilian Rosewood |
| Binding | Ebony |
| Finish | High Gloss |
| Tailpiece | Selmer Replica |
| Tuners | Selmer Replica |
| Action | 3.5mm |
| Strings | Argentine 1510MF |
| Case | Hardshell |
| Pickup(s) | Bigtone |
| Truss Rod | None |
| Weight | 4.45 lbs |
Software: Kryptronic eCommerce, Copyright 1999-2020 Kryptronic, Inc. Exec Time: 0.068638 Seconds Memory Usage: 4.34639 Megabytes