1963 Jacques Favino 1B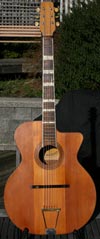 Favino
Legendary Jacques Favino tone and projection at a player's price!
Arts & Entertainment > Hobbies & Creative Arts > Musical Instruments > String Instruments > Guitars > Acoustic Guitars
favino-1b-beuscher
1B
View Offer
DjangoBooks.com
https://www.djangobooks.com/Item/favino-1b-beuscher
1963 Jacques Favino 1B
1963 Jacques Favino 1B
Here is a rare example of an early Jacques Favino guitar from the 1960s! Despite it's unconventional looks, it is a very, very serious instrument with all the bark, volume, and tone you'd expect from the best vintage Favinos, Busatos, Selmers, etc.


Jacques was building two models during this period: the modèle 1A and the fancier modèle 1B. Like the famous Enrico Macias model, this Favino 1B features block MOP fret markers, laminated maple back and sides, and a four piece spruce top. The rosewood fingerboard and headstock are bound and there is a typical Favino three piece maple neck. All the hardware is original including a nice set of SB tuners. The frets are new.

Jacques Favino routinely made guitars for Jean Beuscher, a prominent Parisian music retailer. Like many of Favino's early guitars, this one has a Jean Beuscher label even though it was made entirely by Jacques Favino.


The overall proportions are significantly smaller than typical Favinos. The body is a comfortable 15 1/4" wide, 3 9/16" deep, and the scale length is 635mm.


The top has a beautiful bombe (top arch) which gives the guitar a really explosive tone. The back is also beautifully arched, more so than on most Favinos. It actually looks more like the arched backs that Busato constructed, a technique Favino may have borrowed from his days as an apprentice of Busato himself.


The guitar is strung with 10 gauge Argentine strings and has 3.5mm action. Tonally the guitar is quite exceptional and compares well with other top rated vintage Gypsy guitars. Other 1B models I've played have been quite bright and more Busato like in tone. This one is exceptional in that it has the classic Jacques Favino sound! It has a particularly thick midrange with that classic Favino "honk." Bass notes are present and precise while the highs are warm and round. This guitar has the legendary Favino bark which projects better than even the finest new guitars. And like most vintage guitars, it has that elusive "mojo" or "character" that guitars only attain after decades of use.


Overall the guitar is in very good condition. It has a few long top cracks which have been professionally repaired. There are a couple of places where the binding of the fingerboard cracked. It appears that this guitar once had a floating pickguard as there are small screw holes drilled in the bridge, fingerboard, and side.


Hardshell case included.


This is the CASH price...add 3% if you'd like to pay with a credit card. 4% for International orders.

| | |
| --- | --- |
| Brand | Favino |
| Year | Circa 1963 |
| Model Number | 1B |
| Sound Hole | Oval |
| Fret Neck | 14 Fret |
| Condition | Good |
| Size | 15 1/4" |
| Scale Length | 635mm |
| Nut Width | 1 11/16" |
| Body Depth | 3 9/16" |
| Top | Spruce |
| Back and Sides | European Maple (Laminate) |
| Neck | Maple (Three Piece) |
| Fingerboard | Rosewood |
| Binding | Indian Rosewood |
| Tailpiece | Trapeze |
| Tuners | SB Nickel |
| Action | 3.5mm |
| Strings | Argentine 1610 |
| Case | Hardshell Black |
| Pickup(s) | None |
| Truss Rod | No |
| Weight | 4.15 lbs |
The original "Wegen" Gypsy Guitar pick. 3.5mm thick, 30mm long, 26mm wide.
The original Gypsy jazz strings! Used by Django Reinhard and nearly every other Gypsy guitarist.
Vintage Django tone for Selmer/Maccaferri oval hole guitars.
Software: Kryptronic eCommerce, Copyright 1999-2021 Kryptronic, Inc. Exec Time: 0.091804 Seconds Memory Usage: 4.626076 Megabytes