2017 Eimers Antique (Short Scale)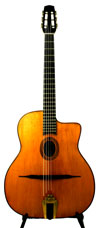 Eimers
Dutch made, custom model with a vintage look and sound!
Arts & Entertainment > Hobbies & Creative Arts > Musical Instruments > String Instruments > Guitars > Acoustic Guitars
eimers-antique
Antique
View Offer
DjangoBooks.com
https://www.djangobooks.com/Item/eimers-antique
2017 Eimers Antique (Short Scale)
2017 Eimers Antique (Short Scale)
Over the past decade Leo Eimers has been one of the prominent builders of Selmer Maccaferri guitars in the Netherlands. Based in Almere, just outside of Amsterdam, Eimers builds his instruments entirely himself by hand. He is particularly well respected as a student of "Golden Age" luthiers such as Maccaferri, Selmer, Busato, and Favino. He uses his knowledge of these luthiers to build some of the most authentic and well constructed Selmer copies available. His instruments have been used by many professionals over the years, most notably Stochelo and Nous'che Rosenberg of the Rosenberg Trio, Robin Nolan, Boulou Ferre, and Wawau Adler.

This is Leo's Model Antique which is his attempt to replicate not only the original design and construction of the original Selmer petite bouche model, but to also recreate both the sonic and aesthetic effects of 60 or more years of ageing. The result is a guitar with a convincing, vintage like patina and a mature, explosive voice.

This particular example was custom ordered with a shorter, 650mm scale length making it a great choice for people accustomed to the short scale lengths of archtops and flatops, or for people with hand issues that require a more ergonomic, easy playing instrument. This instrument was constructed using traditional woods which include a spruce top, gorgeous Brazilian rosewood back and sides, and a walnut neck. Hardware includes a brass HSC tailpiece and a set of nickel three on a plate tuners.

Weighing in at only 3.8 lbs, this guitar is exceptionally light weight and resonant, evoking the sound and feel of the great vintage Selmers of yesteryear. Like a good vintage instrument, this guitar has exceptional clarity of tone, with a chimey, brilliant high end and a tight, focused bass response. Additionally, it is very loud which is not a quality one often finds in shorter scale instruments.

This instrument is in mint condition and is set up with easy playing 2.8mm action.

This is a chance to get obtain a mint, custom Eimers guitar at a great price! A new one would cost nearly $1000 more, making this instrument an exceptional deal.


This is the CASH price...add 3% if you'd like to pay with a credit card. 4% for International orders.

| | |
| --- | --- |
| Brand | Eimers |
| Year | 2017 |
| Model Number | Antique |
| Serial Number | 24-March-2017 |
| Sound Hole | Oval |
| Fret Neck | 14 Fret |
| Condition | Mint |
| Size | 15 3/4" |
| Scale Length | 650mm |
| Nut Width | 1 3/4" |
| Body Depth | 4" |
| Top | European Spruce |
| Back and Sides | Brazilian Rosewood |
| Neck | Walnut |
| Fingerboard | Ebony |
| Binding | Walnut |
| Finish | Tinted |
| Tailpiece | HSC Gold |
| Tuners | Three on a Plate (Nickel) |
| Action | 2.8mm |
| Strings | Argentine 1510 |
| Case | Superior Deluxe Hardshell Black |
| Pickup(s) | None |
| Truss Rod | Yes |
| Weight | 3.8 lbs |
The original "Wegen" Gypsy Guitar pick. 3.5mm thick, 30mm long, 26mm wide.
The original Gypsy jazz strings! Used by Django Reinhard and nearly every other Gypsy guitarist.
Vintage Django tone for Selmer/Maccaferri oval hole guitars.
Software: Kryptronic eCommerce, Copyright 1999-2019 Kryptronic, Inc. Exec Time: 0.110678 Seconds Memory Usage: 4.455376 Megabytes