Eastman AR910CE-BD Archtop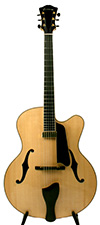 Eastman
Premium archtop with a carved top and a Lollar Johnny Smith pickup!
Arts & Entertainment > Hobbies & Creative Arts > Musical Instruments > String Instruments > Guitars > Acoustic Guitars
eastman-ar910ce-bd
AR910CE-BD
3330.00
DjangoBooks.com
https://www.djangobooks.com/Item/eastman-ar910ce-bd
Eastman AR910CE-BD Archtop
Eastman AR910CE-BD Archtop
The AR910CE-BD is a fully capable modern jazz guitar
Eastman archtops have earned a reputation as some of the best sounding and playing jazz guitars available. Built using "old world" construction methods, each instrument is meticulously hand crafted out of the finest materials. The 900 series instruments are Eastman's flagship models. Carefully designed and beautifully constructed, the 900 series models are built using the best tone woods and hardware available. The AR910CE-BD features a hand carved, X braced top made of well aged spruce, flamed solid maple back and sides, and a three piece maple neck. Aesthetically, this instrument takes inspiration from the modern, "clean," cello inspired look of builders such as D'Aquisto and Benedetto. The wood cello style tailpiece, dotless ebony fingerboard, Gotoh tuners, and nitrocellulose finish give the instrument a sophisticated, timeless appearance. The floating Lollar Johnny Smith pickup allows the top to resonate acoustically while producing a natural, clean amplified tone.
Highly versatile and easily playable, the AR910CE-BD will meet the needs of any jazz guitarist
This model is an excellent choice for players who seek an instrument that is truly electro-acoustic. The AR910CE-BD is full and resonant when played acoustically and warm and round when plugged in. The 17" body sits produces a full and robust tone while the short 25" scale allows one to easily execute complex chords and difficult passages.. This guitar comes setup with D'Addario 12 gauge roundwounds and fairly low, 2mm action. However, this instrument performs well with many types of setups, including traditional bebop (14 gauge flatwounds and very low action) and swing (higher action) setups.
Whether it's blazing bebop leads, fingerstyle ballads, or crunchy swing rhythm, this instrument can do it all! Come and experience the magic of Eastman's flagship model yourself...
Receive an in stock email notification for this item as soon as it becomes available.
9910 - Eastman AR910CE-BD Archtop
| | |
| --- | --- |
| Brand | Eastman |
| Year | 2020 |
| Model Number | AR910CE-BD |
| Serial Number | 15950886 |
| Sound Hole | F Holes |
| Fret Neck | 14 Fret |
| Condition | New |
| Size | 17" |
| Scale Length | 25" |
| Nut Width | 1 3/4" |
| Body Depth | 3 1/8" |
| Top | Spruce |
| Back and Sides | Maple |
| Neck | Maple |
| Fingerboard | Ebony |
| Binding | Figured Maple |
| Finish | Natural |
| Tailpiece | Ebony Trapeze |
| Tuners | Schaller Gold w/ ebony buttons |
| Action | Varies |
| Strings | D'Addario NYXL .012 - .052 |
| Case | Fiberglass |
| Pickup(s) | Floating Lollar Johnny Smith |
| Truss Rod | Yes |
| Weight | 5.75 lbs |
Same thickness as the GP250 but smaller over all dimensions. Provides better control with out losing tone. Seems to work nicely on shorter scale guitars. 27.5 mm long, 23.3 mm wide, 2.5 mm thick. (two per pack).
Learn jazz rhythm guitar. Book/CD pack includes: sample songs, patterns, progressions, and excercises; essential chord voicings, inversions, and substitutions; info on time, groove and reading charts; a chord reference library; and over 50 full-demo samples on CD. Lead sheet format. 80 pp.
Denotes items that always ship for free. No shipping charges are calculated for Free Shipping items. Free shipping only applies to domestic orders. International orders are subject to shipping fees.
Software: Kryptronic eCommerce, Copyright 1999-2023 Kryptronic, Inc. Exec Time: 0.046197 Seconds Memory Usage: 1.66069 Megabytes