Eastman AR403CED-SB Electric Archtop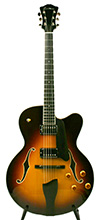 Eastman
Premium archtop with a laminate top and dual Kent Armstrong pickups!
Arts & Entertainment > Hobbies & Creative Arts > Musical Instruments > String Instruments > Guitars > Acoustic Guitars
eastman-ar403ced-sb
AR403CED-SB
1095.00
DjangoBooks.com
https://www.djangobooks.com/Item/eastman-ar403ced-sb
Eastman AR403CED-SB Electric Archtop
Eastman AR403CED-SB Electric Archtop
The AR403CED-SB is a fully capable modern jazz guitar
Eastman archtops have earned a reputation as some of the best sounding and playing jazz guitars available. Built using "old world" construction methods, each instrument is meticulously hand crafted out of the finest materials. The AR403CED-SB features a hand carved, X braced top made of laminate maple, laminate maple back and sides, and a three piece maple neck. Aesthetically, this instrument takes inspiration from the modern, "clean," cello inspired look of builders such as D'Aquisto and Benedetto. The wood cello style tailpiece, nickel plated hardware, and nitrocellulose finish give the instrument a sophisticated, timeless appearance. The twin built-in Kent Armstrong humbucking pickups can produce an astonishing variety of tones, from classic jazz to modern fusion to gritty blues.

Highly versatile and easily playable, the AR403CED-SB will meet the needs of any jazz guitarist
This model is an excellent choice for players seeking a stylish yet roadworthy instrument that can produce classic jazz tones at high volumes. The comfortable 16" body sits effortlessly in your lap while the built-in pickups will keep feedback at bay. This guitar comes setup with D'Addario 12 gauge roundwounds and fairly low, 2mm action. However, this instrument performs well with many types of setups, including traditional bebop (14 gauge flatwounds and very low action) and swing (higher action) setups.
Whether it's blazing bebop leads, fingerstyle ballads, or searing blues solos, this instrument can do it all! Come and experience the easy playability and tonal beauty of this highly versatile model yourself...
Receive an in stock email notification for this item as soon as it becomes available.
9910 - Eastman AR403CED-SB Electric Archtop
| | |
| --- | --- |
| Brand | Eastman |
| Year | 2020 |
| Model Number | AR403CED-SB |
| Serial Number | 16850704 |
| Sound Hole | F Holes |
| Fret Neck | 14 Fret |
| Condition | New |
| Size | 16" |
| Scale Length | 25" |
| Nut Width | 1 3/4" |
| Body Depth | 2 9/16" |
| Top | Laminated Maple |
| Back and Sides | Laminated Maple |
| Neck | Maple (3 Piece) |
| Fingerboard | Rosewood |
| Binding | Ivoroid 5-ply top 3 ply back |
| Finish | Classic |
| Tailpiece | Gold & Rosewood Trapeze |
| Tuners | Pingwell RM-1271 |
| Action | Varies |
| Strings | D'Addario NYXL .012 - .052 |
| Case | Fiberglass |
| Pickup(s) | Kent Armstrong Humbucker x 2 |
| Truss Rod | Yes |
| Weight | 5.45 |
Same thickness as the GP250 but smaller over all dimensions. Provides better control with out losing tone. Seems to work nicely on shorter scale guitars. 27.5 mm long, 23.3 mm wide, 2.5 mm thick. (two per pack).
Learn jazz rhythm guitar. Book/CD pack includes: sample songs, patterns, progressions, and excercises; essential chord voicings, inversions, and substitutions; info on time, groove and reading charts; a chord reference library; and over 50 full-demo samples on CD. Lead sheet format. 80 pp.
Denotes items that always ship for free. No shipping charges are calculated for Free Shipping items. Free shipping only applies to domestic orders. International orders are subject to shipping fees.
Software: Kryptronic eCommerce, Copyright 1999-2023 Kryptronic, Inc. Exec Time: 0.115417 Seconds Memory Usage: 4.922897 Megabytes