2005 Dupont Vieille Reserve Brazilian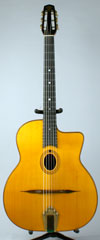 Dupont
Ultra-easy playing flagship model at a price that's too good to be true! Schatten pickup included.
Arts & Entertainment > Hobbies & Creative Arts > Musical Instruments > String Instruments > Guitars > Acoustic Guitars
dupont-vielle-reserve-62
VRB
View Offer
DjangoBooks.com
https://www.djangobooks.com/Item/dupont-vielle-reserve-62
2005 Dupont Vieille Reserve Brazilian
2005 Dupont Vieille Reserve Brazilian
This is Maurice Dupont's top of the line Selmer copy. No detail is overlooked with both the materials and workmanship being of the highest caliber. The track record of this instrument speaks for itself, as so many of today's top players use the Vieille Reserve model. Bireli Lagrene recorded the first two Gypsy Project CDs with this model.

French pros Romane and Stephane Wrembel also play Dupont VRBs.

This used VRB is the deal of the century at only $6300! We sell the new VRBs for $9000, so at $2700 off this a great deal for someone looking for a flagship guitar for less.

This guitar includes:

-A 40 year old aged Spruce top

-Highly Figured 40 year aged Brazilian back and sides

-Deluxe, closed DM tuners

-The top has a real pliage (i.e. the wood was bent over a hot iron like the old Selmers. Almost all other Selmer copies have forced tops which aren't as punchy).

After six years of use this guitar has developed a wonderfully mature, complex, and robust tone. You can really hear the wonders of the aging process when you compare this VRB to a new one. It is extremely resonant making it one of the loudest Duponts you'll ever find. Additionally, the high end is particularly crisp, similar to what you hear in guitars from the 40s. This instrument will make your lead lines sing like none other.

This guitar has some signs of use. Numerous small scratches and dings can be found on the top, back, and sides. Two small cracks between the soundhole and fingerboard and one very large crack on the treble side of the lower bout (see photos). All have been repaired and are stable. The longer crack only goes through the top in two small places. Most of the crack is more superficial. The frets were recently replaced and Plek'd (i.e. computerized precision fret level done by the Plek CNC machine) by the renowned guitar tech Mike Lull. Such precise fretwork allows for the lowest action possible. This guitar is currently setup with 2.8mm action with hardly any fret buzz.

There is a Schatten pickup installed ($200 value).

A TKL hardshell case is included.

This is the CASH price...add 3% if you'd like to pay with a credit card. 4% for International orders.
| | |
| --- | --- |
| Brand | Dupont |
| Year | 2005 |
| Model Number | VRB |
| Serial Number | 062 |
| Sound Hole | Oval |
| Fret Neck | 14 Fret |
| Condition | Good |
| Size | 15 3/4" |
| Scale Length | 670mm |
| Nut Width | 1 3/4" |
| Top | European Spruce (Aged 40 Years) |
| Back and Sides | Brazilian Rosewood (Laminate) |
| Neck | Walnut |
| Fingerboard | Ebony |
| Binding | Brazilian Rosewood |
| Finish | Tinted Nitrocellulos |
| Tailpiece | DM Gold |
| Tuners | DM Enclosed Tuners Gold |
| Action | 2.8mm |
| Strings | Argentine 1510MF |
| Case | Dupont TKL Faux Leather |
| Pickup(s) | Schatten HFN-S2 |
| Truss Rod | Yes |
| Weight | 4.15 lbs |
The original "Wegen" Gypsy Guitar pick. 3.5mm thick, 30mm long, 26mm wide.
The original Gypsy jazz strings! Used by Django Reinhard and nearly every other Gypsy guitarist.
Vintage Django tone for Selmer/Maccaferri oval hole guitars.
Software: Kryptronic eCommerce, Copyright 1999-2020 Kryptronic, Inc. Exec Time: 0.108037 Seconds Memory Usage: 4.629997 Megabytes