Maurice Dupont 2010 Nomade D Hole Guitar (Mahogany Back and Sides) with SSC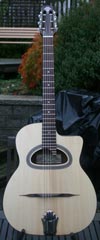 Default Manufacturer
Maurice Dupont 2010 Nomade D Hole Guitar (Mahogany Back and Sides) with SSC
Arts & Entertainment
dupont-nomade-2010-d-3
9905
View Offer
DjangoBooks.com
https://www.djangobooks.com/Item/dupont-nomade-2010-d-3
Maurice Dupont 2010 Nomade D Hole Guitar (Mahogany Back and Sides) with SSC
Maurice Dupont 2010 Nomade D Hole Guitar (Mahogany Back and Sides) with SSC
The Nomade has the sound and playability of Dupont's best instruments at an affordable price!

This Nomade has Mahogany back and sides, French spruce top, Mahogany neck, and a Satin finish. The neck is bolted on and can be removed which is handy when traveling.
This one has unusually nice wood for a Nomade. The back and sides have a lot of figure and a deep, chocolatey color that is more reminiscent of fine Brazilian rosewood.

The sound is very impressive....very similar to the MD-50 which is over twice the price!

Includes soft shell travel case.
This is the CASH price...add 3% (4% for International orders) if you'd like to pay with a credit card.
Software: Kryptronic eCommerce, Copyright 1999-2021 Kryptronic, Inc. Exec Time: 0.128184 Seconds Memory Usage: 4.501945 Megabytes