2010 Dupont MDC-50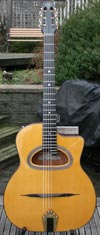 Default Manufacturer
Balanced and warm with a richer low end than the oval hole model, but still enough bite for cutting leads.
Arts & Entertainment
dupont-mdc-50-2010-3
9910
View Offer
DjangoBooks.com
https://www.djangobooks.com/Item/dupont-mdc-50-2010-3
2010 Dupont MDC-50
2010 Dupont MDC-50
The MDC-50 has been THE go to guitar for pros over two decades. It's one of the few D holes that accurately produces a traditional Selmer tone with the added lows and mids of a D hole. D holes often sound too dark and muddy...but this fine guitar is finely balanced so that you get the rich sound of a D hole without loosing the high end cutting power that the oval holes have. Very warm with just enough "crunch."
This is the CASH price...add 3% (4% for International orders) if you'd like to pay with a credit card.
Software: Kryptronic eCommerce, Copyright 1999-2020 Kryptronic, Inc. Exec Time: 0.830433 Seconds Memory Usage: 4.500488 Megabytes