2010 Dupont MDC50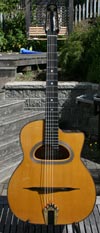 Default Manufacturer
Well balanced, full bodied traditional Selmer tone with a modern, ergonomic neck.
Arts & Entertainment
dupont-mdc-50-2010-2
9910
View Offer
DjangoBooks.com
https://www.djangobooks.com/Item/dupont-mdc-50-2010-2
2010 Dupont MDC50
2010 Dupont MDC50
The MDC-50 is the workhorse instrument of Gypsy jazz. It has the most traditional Selmer like tone in this price range. Will give you all thepower and punch you need and has fantastic playability as well.
Maurice has been on a role with the D hole MDC-50s lately! The last three I've had have been the best he's ever made, and this one tops them all. Projection is off the charts, tone is complex and balanced, and playability is easier than a solid body electric!!!
This is the CASH price...add 3% (4% for International orders) if you'd like to pay with a credit card.
Software: Kryptronic eCommerce, Copyright 1999-2020 Kryptronic, Inc. Exec Time: 0.074808 Seconds Memory Usage: 4.500481 Megabytes