2022 Dupont MD50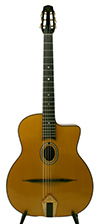 Dupont
The classic! Played by nearly every Gypsy guitarist over the last 20 years.
Arts & Entertainment > Hobbies & Creative Arts > Musical Instruments > String Instruments > Guitars > Acoustic Guitars
dupont-md50-2022
MD50
View Offer
DjangoBooks.com
https://www.djangobooks.com/Item/dupont-md50-2022
2022 Dupont MD50
2022 Dupont MD50
Maurice Dupont has long been one of the most respected luthiers in France and one of the first contemporary makers to specialize in producing the Selmer Maccaferri guitar. Maurice first gained recognition as a builder of classical guitars and in 1989 was bestowed with the honor of "Best French Craftsman." Maurice was an apprentice of the legendary Gypsy guitar maker Jacques Favino, and in 1986 he began building his own Selmer style guitars which quickly became the most popular choice of professional Gypsy guitarists. Countless Gypsy stars including Raphael Fays, Biréli Lagrène, Tchavolo Schmitt, and Romane have played Dupont guitars which appear on hundreds of recordings.

Dupont's Gypsy models are built entirely in Cognac, France by master luthiers Patrick (who joined the Dupont team in 1994) and Mathias (since 2002) under the supervision of Maurice Dupont. The collective experience.of the Dupont team along with Maurice's stock of well aged, select tonewoods yields instruments of unsurpassed tone and playability.
The MD50 is Maurice's standard Selmer copy which is based on the same specifications as the legendary Selmer guitars produced from 1932-1951. This instrument features Indian rosewood back and sides, a French spruce top, and a walnut neck. Duponts are known for their clear, dry tone and this instrument is no exception. Each note is well defined and projects well, without any of the annoying overtone ringing or muddiness that lesser guitars suffer from.

Maurice's precision fretwork and neck geometry allow for easy playing low action which enables one to play even the most difficult passages with little effort. For these reasons, the MD50 has long been the "go to" guitar for professional Gypsy jazz guitarists. It has the most traditional Selmer tone and the best quality workmanship and materials that one can find in this price range. For these reasons it's our best selling guitar!

This is the CASH price...add 3% (4% for International orders) if you'd like to pay with a credit card.
| | |
| --- | --- |
| Brand | Dupont |
| Year | 2022 |
| Model Number | MD50 |
| Serial Number | 11/2022 |
| Sound Hole | Oval |
| Fret Neck | 14 Fret |
| Condition | New |
| Size | 15 3/4" |
| Scale Length | 670mm |
| Nut Width | 1 3/4" |
| Body Depth | 3 7/8" |
| Top | European Spruce |
| Back and Sides | Indian Rosewood (Laminate) |
| Neck | Walnut (Modern C Shape) |
| Fingerboard | Ebony |
| Binding | Walnut |
| Finish | Nitrocellulose |
| Tailpiece | DM Gold |
| Tuners | Schaller Gold |
| Action | 2.8mm |
| Strings | Argentine 1510MF |
| Case | Dupont (TKL) Faux Leather |
| Pickup(s) | None |
| Truss Rod | Yes |
| Weight | 3.9 lbs |
The original "Wegen" Gypsy Guitar pick. 3.5mm thick, 30mm long, 26mm wide.
The original Gypsy jazz strings! Used by Django Reinhard and nearly every other Gypsy guitarist.
Vintage Django tone for Selmer/Maccaferri oval hole guitars.
Software: Kryptronic eCommerce, Copyright 1999-2023 Kryptronic, Inc. Exec Time: 0.167106 Seconds Memory Usage: 2.61898 Megabytes