2010 Dupont MD50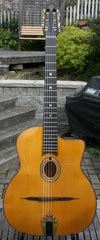 Default Manufacturer
Maurice Dupont 2010 MD-50 Oval Hole Guitar (Indian Rosewood Back and Sides) with HSC
Arts & Entertainment
dupont-md50-2010
9905
View Offer
DjangoBooks.com
https://www.djangobooks.com/Item/dupont-md50-2010
2010 Dupont MD50
2010 Dupont MD50
The MD50 is the workhorse instrument of Gypsy jazz. It has the most traditional Selmer like tone in this price range. Will give you all the power and punch you need and has fantastic playability as well. Traditional Selmer wood choices: French Spruce top, Indian Rosewood back and sides, and a Walnut neck.
This particular MD-50 is unusually warm and complex....I've never had an MD-50 that is so rich in tone! Really gorgeous....

This is the CASH price...add 3% (4% for International orders) if you'd like to pay with a credit card.
Software: Kryptronic eCommerce, Copyright 1999-2021 Kryptronic, Inc. Exec Time: 0.294676 Seconds Memory Usage: 4.501114 Megabytes