1999 Dupont Mandoline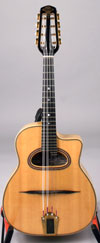 Dupont
A wonderful Gypsy style mandolin from the world's preeminent Selmer style luthier.
Arts & Entertainment
dupont-mandoline-1999
Mandoline
View Offer
DjangoBooks.com
https://www.djangobooks.com/Item/dupont-mandoline-1999
1999 Dupont Mandoline
1999 Dupont Mandoline
Maurice Dupont has long been one of the most respected luthiers in France and one of the first contemporary makers to specialize in producing the Selmer Maccaferri guitar. Maurice first gained recognition as a builder of classical guitars and in 1989 was bestowed with the honor of "Best French Craftsman." Maurice was an apprentice of the legendary Gypsy guitar maker Jacques Favino, and in 1986 he began building his own Selmer style guitars which quickly became the most popular choice of professional Gypsy guitarists. Countless Gypsy stars including Raphael Fays, Biréli Lagrène, Tchavolo Schmitt, and Romane have played Dupont guitars which appear on hundreds of recordings.

From time to time Maurice Dupont will make one of these lovely little "Djangolines." This one features solid birdseye maple back and side, spruce top, and an ebony fingerboard. The body is 10" wide and 2.5" deep. The scale length is 14". There is also fancy maple binding around the body.

It should be mentioned that this instrument was made specifically for a friend of Maurice's who is a respected violin maker. Maurice's friend provided the 100 year old birdseye maple from his own stock of select woods. So this is a one-of-a-kind Dupont mandoline as this wood is of a higher grade than normally found on this model.

This is a fantastic instrument for mandolinists looking to venture into the world of Gypsy jazz or swing violinists who occasionally double on mandolin.

Maurice did a great job of making a mandolin that both looks and sounds like a Selmer guitar. It is bright, dry, and crunchy just like it's bigger guitar cousins.

It is strung with Argentine strings to give it the appropriate Gypsy sound and feel.

Although over a decade old, this instrument is in perfect mint condition! Other than some natural darkening of the finish, it is indiscernible from a new guitar.

This is the CASH price...add 3% (4% for International orders) if you'd like to pay with a credit card.
| | |
| --- | --- |
| Brand | Dupont |
| Year | 1999 |
| Model Number | Mandoline |
| Serial Number | Avril 1999 |
| Sound Hole | D Hole |
| Fret Neck | 12 Fret |
| Condition | Mint |
| Size | 10" |
| Scale Length | 355mm |
| Nut Width | 1" |
| Body Depth | 2 9/16" |
| Top | European Spruce |
| Back and Sides | Birsdeye Maple (Solid) |
| Neck | European Maple |
| Fingerboard | Ebony |
| Binding | Maple |
| Finish | Nitrocellulose |
| Tailpiece | Dupont Gold |
| Tuners | Schaller Four on a Plate |
| Action | 3mm |
| Strings | Argentine 1540 |
| Case | Fel Molded Foam |
| Pickup(s) | None |
| Truss Rod | None |
| Weight | 1.6 lbs |
Software: Kryptronic eCommerce, Copyright 1999-2020 Kryptronic, Inc. Exec Time: 0.077295 Seconds Memory Usage: 4.508644 Megabytes