2012 Dupont DM50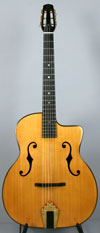 Dupont
This is Maurice's true bench copy of a Di Mauro with a HUGE bombe, 650mm scale, and an optional adjustable bridge. One of a kind!
Arts & Entertainment > Hobbies & Creative Arts > Musical Instruments > String Instruments > Guitars > Acoustic Guitars
dupont-dm50-2012-2
DM50
View Offer
DjangoBooks.com
https://www.djangobooks.com/Item/dupont-dm50-2012-2
2012 Dupont DM50
2012 Dupont DM50
Ever since Joseph Di Mauro built his last guitar in the early 1990s, Gypsy guitarists have longed for a reliable reissue of the classic Special Chorus model. After a long wait, Dupont has produced just that, a wonderful recreation of Di Mauro's distinctive design featuring f holes and a bent back that was made famous by players such as Moreno, Boulou Ferre, Patrick Saussois, Samy Daussat, Jean-Yves Dubanton, and even Pat Metheny!

Maurice has sent me a number of his DM series Di Mauro copies. The others have been his own unique interpretation of the classic Special Chorus model. This guitar is a little different as he attempted to make a true bench copy, using the exact specs that Di Mauro used. As a result, this one-of-a-kind example has a number of notable differences from the more standard DM series guitars:

- A thicker top with an extreme top arch (bombe.)
- More neck angle (notice the very tall bridge.)
- Shorter 650mm scale.
- Slightly thinner body depth.
- An optional adjustable bridge.
- A flat back (sorry, I said in the video it was arched but it's not.)

The result is something altogether different than anything I've ever had from a contemporary maker! This instrument is noticeably more archtop like in tone, with the sort of midrange focus you'd expect from a Gibson L5 or a D'Angelico. Yet, at the same time it is undeniably Gypsy, with the forceful projection and bark that this genre requires. It's the ultimate hybrid guitar that can make itself at home on either side of the swing divide.

Additionally, it is hands down one of the easiest playing guitars I've ever had from Dupont. With buttery 2.2mm action and a short 650mm scale, nearly anything is possible!

This wonderful Di Mauro copy is one of the most unique and satisfying guitars I've had in a good while. It will surely find a home with that special player looking to fill the void between archtop and Gypsy.

This slightly used example is in near mint condition. There is one very minor ding on the top, around lower bass bout close to the binding, as well as another small ding on the top behind the bridge. Other than that, it is indistinguishable from a new model.

This is the CASH price...add 3% (4% for International orders) if you'd like to pay with a credit card.

| | |
| --- | --- |
| Brand | Dupont |
| Year | 2012 |
| Model Number | DM50 |
| Serial Number | Juin 2012 |
| Sound Hole | F Holes |
| Fret Neck | 14 Fret |
| Condition | Mint |
| Size | 15 3/4" |
| Scale Length | 650mm |
| Nut Width | 1 3/4" |
| Body Depth | 3 3/4" |
| Top | European Spruce |
| Back and Sides | Indian Rosewood (Laminate) |
| Neck | Walnut (Modern C Shape) |
| Fingerboard | Ebony |
| Binding | Walnut |
| Finish | High Gloss |
| Tailpiece | DM Gold |
| Tuners | Schaller three on a plate (Gold) |
| Action | 2.2mm |
| Strings | Argentine 1610MF |
| Case | Dupont (TKL) Faux Leather |
| Pickup(s) | None |
| Truss Rod | Yes |
| Weight | 3.95 lbs |
The original "Wegen" Gypsy Guitar pick. 3.5mm thick, 30mm long, 26mm wide.
The original Gypsy jazz strings! Used by Django Reinhard and nearly every other Gypsy guitarist.
Software: Kryptronic eCommerce, Copyright 1999-2023 Kryptronic, Inc. Exec Time: 0.170471 Seconds Memory Usage: 4.59594 Megabytes