2012 Dupont DM-50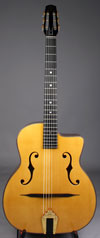 Dupont
Finally, a reissue of the classic Di Mauro Special Chorus!
Arts & Entertainment > Hobbies & Creative Arts > Musical Instruments > String Instruments > Guitars > Acoustic Guitars
dupont-dm50-2012
DM-50
View Offer
DjangoBooks.com
https://www.djangobooks.com/Item/dupont-dm50-2012
2012 Dupont DM-50
2012 Dupont DM-50
Ever since Joseph Di Mauro built his last guitar in the early 1990s, Gypsy guitarists have longed for a reliable reissue of the classic Special Chorus model. After a long wait, Dupont has produced just that, a wonderful recreation of Di Mauro's distinctive design featuring f holes and a bent back that was made famous by players such as Moreno, Boulou Ferre, Patrick Saussois, Samy Daussat, Jean-Yves Dubanton, and even Pat Metheny!

As you'd expect, Maurice did a fantastic job recreating the classic Di Mauro sound. The tone of this instrument features a midrange which is richer than most, allowing for full sounding chords and thick single note lines. Lead lines have a unique, horn like quality with a nice roundness to the highs while chords are focused and well defined. A wonderful guitar for someone who finds typical Selmer copies to be a bit too brash.

This guitar projects nicely with more than enough volume to get you through a rowdy campfire jam. With low 2.8mm action, it plays better than most which makes it a great instrument for those looking to play difficult passages with ease.

Finally, it is a beautiful guitar to look at! The workmanship is flawless, the woods attractive, and most importantly it's distinctive f hole design make it a Gypsy jazz fashion statement that few will forget. In a world of Gypsy guitars with oval and D soundholes, why not dare to be different and play one of these unique Di Mauro style guitars?

This is the CASH price...add 3% (4% for International orders) if you'd like to pay with a credit card.

| | |
| --- | --- |
| Brand | Dupont |
| Year | 2012 |
| Model Number | DM-50 |
| Serial Number | Août 2012 |
| Sound Hole | F Holes |
| Fret Neck | 14 Fret |
| Condition | New |
| Size | 15 3/4" |
| Scale Length | 670mm |
| Nut Width | 1 3/4" |
| Top | European Spruce |
| Back and Sides | Indian Rosewood (Laminate) |
| Neck | Walnut (Modern C Shape) |
| Fingerboard | Ebony |
| Binding | Walnut |
| Finish | High Gloss |
| Tailpiece | DM Gold |
| Tuners | Schaller three on a plate (Gold) |
| Action | 2.8mm |
| Strings | Argentine 1610MF |
| Case | Dupont (TKL) Faux Leather |
| Pickup(s) | None |
| Truss Rod | Yes |
| Weight | 3.80 lbs |
The original "Wegen" Gypsy Guitar pick. 3.5mm thick, 30mm long, 26mm wide.
The original Gypsy jazz strings! Used by Django Reinhard and nearly every other Gypsy guitarist.
Software: Kryptronic eCommerce, Copyright 1999-2023 Kryptronic, Inc. Exec Time: 0.10401 Seconds Memory Usage: 4.595177 Megabytes