1950s Antoine Di Mauro Saint Louis Blues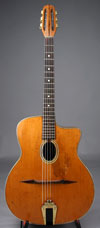 Di Mauro
One of the classic models from the illustrious Di Mauro family.
Arts & Entertainment
di-mauro-st-louis-blues-2
Saint Louis Blues
View Offer
DjangoBooks.com
https://www.djangobooks.com/Item/di-mauro-st-louis-blues-2
1950s Antoine Di Mauro Saint Louis Blues
1950s Antoine Di Mauro Saint Louis Blues
Antoine Di Mauro was part of the mass emigration of master Sicilian luthiers (Busato, Oliveri Anastasio, etc) who left Catania in the early 20th century. In the 1930s Di Mauro and his countrymen setup a series of shops on the East side of Paris and quickly adapted their skills to making jazz guitars in the Selmer Maccaferri style. Di Mauro was certainly one of the most successful and long lasting of these Franco-Sicilian luthiers as his guitars were widely adopted by players of many styles. Notable players include Moreno, Boulou Ferre, Patrick Saussois, Samy Daussat, Jean-Yves Dubanton, and even Pat Metheny! Di Mauro guitars were produced continuously until the early 90s, first by Antoine and then later by his son Joseph.

The Saint Louis Blues model was Di Mauro's Selmer inspired design, so it features an oval soundhole and a flatter back than their other models. The neck is typically Sicilian, built in three pieces with a spline down the middle. There is a rosewood heel cap which is a nice aesthetic touch. The back and sides are maple, the top is spruce, and the neck is made of mahogany with a rosewood spline. It still has the original three on a plate tuners.

The condition of this guitar is very good. It certainly shows signs of being played and has the typical pick wear and dings you'd expect from a guitar of this age. There are no cracks. The frets are new but the fingerboard itself has some significant wear, most notably some deep string wear around the first five frets. The fingerboard wear has little effect on the sound or playability of the guitar as the frets themselves are new.

This lovely Di Mauro has a classic tone that would be more than welcome at any jam. It's sound is pleasantly bright, snappy, and full of life. As is often the case with guitars of this age, it has a purity and clarity of tone that is rarely found in new guitars. Single notes just sing as the mature high end of this guitar really allows them to carry. The lack of overtone ringing insures clarity and definition, qualities which are only found in the best Gypsy guitars. The chordal sound is very rich in the mids and highs, producing a rhythm sound which is punchy and crisp. The low end is attenuated nicely so there's no chance of this guitar ever sounding muddy or dark. It's a spunky guitar with a great, "crunchy" vintage sound!

In Django's day, Di Mauro's were the "player's" guitars: more affordable than the pricey Selmers but very solid instruments with a great sound. Not much has changed as these vintage gems cost far less than similar Selmer models but the sound is certainly there. Treat yourself to exquisite vintage tone at the price most entry level handmade guitars cost!


This is the CASH price...add 3% if you'd like to pay with a credit card. Add 4% for international credit card orders.


| | |
| --- | --- |
| Brand | Di Mauro |
| Year | 1950s |
| Model Number | Saint Louis Blues |
| Serial Number | None |
| Sound Hole | Oval |
| Fret Neck | 14 Fret |
| Condition | Very Good |
| Size | 15 5/8" |
| Scale Length | 650mm |
| Nut Width | 1 11/16" |
| Body Depth | 3 3/4" |
| Top | Spruce |
| Back and Sides | Maple |
| Neck | Mahogany with Rosewood spline |
| Fingerboard | Rosewood |
| Binding | Rosewood |
| Finish | Vintage |
| Tailpiece | Trapeze |
| Tuners | Three on a plate |
| Action | 3.2mm |
| Strings | Argentine 1610MF |
| Case | Hardshell |
| Pickup(s) | None |
| Truss Rod | None |
| Weight | 3.7 lbs |
Software: Kryptronic eCommerce, Copyright 1999-2020 Kryptronic, Inc. Exec Time: 0.077082 Seconds Memory Usage: 4.520035 Megabytes