DELL'ARTE PIGALLE (SELMER STYLE) GUITAR ***THIS MODEL HAS BEEN DISCONTINUED***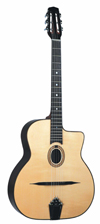 Default Manufacturer
Arts & Entertainment
dellarte_pigalle_music_link
9930
690.00
DjangoBooks.com
https://www.djangobooks.com/Item/dellarte_pigalle_music_link
DELL'ARTE PIGALLE (SELMER STYLE) GUITAR ***THIS MODEL HAS BEEN DISCONTINUED***
DELL'ARTE PIGALLE (SELMER STYLE) GUITAR ***THIS MODEL HAS BEEN DISCONTINUED***
Selmer style guitar. Laminated rosewood back & sides, solid spruce top, Mahogany neck, Selmer type tuners, ebony fretboard. Built by Music Link for Dell Arte.

With the original Selmer and Maccaferri guitars reaching astronomical collectors' prices, Dell'Arte has answered the call to players with accurate vintage replicas. The Pigalle has a solid spruce top, rosewood back and sides, a mahogany neck, a rosewood fretboard and mustache bridge, a brass Maccaferri-style tailpiece and an oval-hole soundhole with a Selmer-style rosette. This Django-style model is designed for lead playing and will please anyone who's passionate about gypsy jazz.

Receive an in stock email notification for this item as soon as it becomes available.
9930 - DELL'ARTE PIGALLE (SELMER STYLE) GUITAR ***THIS MODEL HAS BEEN DISCONTINUED***
Software: Kryptronic eCommerce, Copyright 1999-2020 Kryptronic, Inc. Exec Time: 0.076069 Seconds Memory Usage: 4.720703 Megabytes