DELL'ARTE DG-AD1 ANGELO DEBARRE (FAVINO STYLE) GUITAR ***THIS MODEL HAS BEEN DISCONTINUED***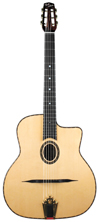 Default Manufacturer
Arts & Entertainment
dellarte_debarre_music_link
9930
1275.00
DjangoBooks.com
https://www.djangobooks.com/Item/dellarte_debarre_music_link
DELL'ARTE DG-AD1 ANGELO DEBARRE (FAVINO STYLE) GUITAR ***THIS MODEL HAS BEEN DISCONTINUED***
DELL'ARTE DG-AD1 ANGELO DEBARRE (FAVINO STYLE) GUITAR ***THIS MODEL HAS BEEN DISCONTINUED***
Angelo Debarre Favino Style signature model guitar. Flamed maple back and sides, solid spruce top, Mahogany neck, Selmer type tuners, ebony fretboard. Built by Music Link for Dell Arte.

Few guitarists today can approach the colossal technique and fiery musical stylings of Angelo Debarre. Dell Arte proudly brings you the signature model that meets the virtuoso s specifications. This model has a slightly larger Favino-style body that many players believe contributes an extra measure of tone and volume. The guitar also features a solid spruce top, mahogany neck, a rosewood fretboard, a mustache bridge and a gold-plated tailpiece with an engraving of Debarre s signature.

Angelo Debarre, born in St. Denis, France, started playing guitar at the age of 8. He was brought up by a family in touch with the manouche (gypsy) tradition, where music is an essential part of life. He founded his first group, The Angelo Debarre Quintet in 1984, and began touring the world with gypsy musicians. Since then, he has garnered acclaim throughout the world for his guitar playing and complex compositions. For Debarre, Django Reinhardt s music never loses the dynamism and richness of the past. This Dell Arte model reflects his love and appreciation for the art of gypsy jazz.

Receive an in stock email notification for this item as soon as it becomes available.
9930 - DELL'ARTE DG-AD1 ANGELO DEBARRE (FAVINO STYLE) GUITAR ***THIS MODEL HAS BEEN DISCONTINUED***
Software: Kryptronic eCommerce, Copyright 1999-2020 Kryptronic, Inc. Exec Time: 0.081467 Seconds Memory Usage: 4.686073 Megabytes