Used Dell'Arte Tchavolo Schmitt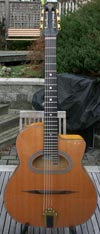 Default Manufacturer
Only Tchavolo model we've ever seen, unusual short scale 14 fret guitar with a cedar top and gorgeous primavera back and sides.
Arts & Entertainment
dell-arte-tchavolo-schmitt
9930
View Offer
DjangoBooks.com
https://www.djangobooks.com/Item/dell-arte-tchavolo-schmitt
Used Dell'Arte Tchavolo Schmitt
Used Dell'Arte Tchavolo Schmitt
This is one of Dell Arte's rarest models. It featrues a master grade cedar top, South American primavera back and sides, ebony binding, and a maple neck. The back, sides, and neck are toned with a honey color. Really stunning!
Hardware includes a brass DR tailpiece and brass Miller tuners.
This guitar has a 16 1/2" Favino sized body with a short 650mm neck.
Bigtone pickup included.
Tchavolo Schmitt used this model on his CD
Seven Gypsy Nights
.
The sound is very Favino-esque, with some nice upper mids and rounded highs. It is well balanced and not overly bass heavy, which is the downfall of so many short scale D holes. The tone is dry and largely free of excessive ringing and echo. The action is at 3mm and it plays nicely with a set of 10 gauge Dell Arte strings.

Condition is mint...the guitar was completely babied and is indiscernible from a brand new one. This guitar would be $3599 new, so this discounted price is a great deal for an essentially new guitar!
Fiberglass flight case included.
This is the CASH price...add 3% if you'd like to pay with a credit card. 4% for International orders.
Software: Kryptronic eCommerce, Copyright 1999-2022 Kryptronic, Inc. Exec Time: 0.107341 Seconds Memory Usage: 4.50399 Megabytes