USED 2006 DELL'ARTE OVAL HOLE HOMMAGE GUITAR (INDIAN ROSEWOOD BACK AND SIDES) WITH JUMBO FIBERGLASS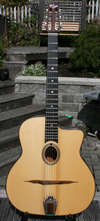 Default Manufacturer
USED 2006 DELL'ARTE OVAL HOLE HOMMAGE GUITAR (INDIAN ROSEWOOD BACK AND SIDES) WITH JUMBO FIBERGLASS CASE
Arts & Entertainment
dell-arte-hommage-1185
9829
View Offer
DjangoBooks.com
https://www.djangobooks.com/Item/dell-arte-hommage-1185
USED 2006 DELL'ARTE OVAL HOLE HOMMAGE GUITAR (INDIAN ROSEWOOD BACK AND SIDES) WITH JUMBO FIBERGLASS
USED 2006 DELL'ARTE OVAL HOLE HOMMAGE GUITAR (INDIAN ROSEWOOD BACK AND SIDES) WITH JUMBO FIBERGLASS
Gypsy Jazz guitar in the style of builder Jacques Favino. If you like the classic Favino sound that you hear on the old recordings of Bireli Lagrene, Boulou Ferre, Matelo Ferret, etc, then this is the guitar for you! Jumbo Fiberglass Hardshell case included (5 value). Handmade in Dell'Artes California workshop.
This used Hommage is in near perfect shape. Almost no signs of wear and it plays great! Indian Rosewood back and sides, spruce top, three piece maple neck.
The Hommage is one of our all time best selling guitars! There's nothing better in this price range....you won't find a handmade Gypsy guitar under ,000 that sounds anywhere near as good. A great value!



This is the CASH price...add 3% if you'd like to pay with a credit card. 4% for International orders.


Software: Kryptronic eCommerce, Copyright 1999-2022 Kryptronic, Inc. Exec Time: 0.103648 Seconds Memory Usage: 4.506889 Megabytes