1979 Ibanez MAC10 12 Fret D Hole Guitar (Indian Rosewood Back and Sides) HSC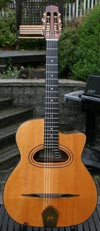 Default Manufacturer
1979 Ibanez MAC10 12 Fret D Hole Guitar (Indian Rosewood Back and Sides) HSC
Arts & Entertainment
csl-maccaferri
9931
View Offer
DjangoBooks.com
https://www.djangobooks.com/Item/csl-maccaferri
1979 Ibanez MAC10 12 Fret D Hole Guitar (Indian Rosewood Back and Sides) HSC
1979 Ibanez MAC10 12 Fret D Hole Guitar (Indian Rosewood Back and Sides) HSC
This is a very rare Ibanez Mario Maccaferri signature model! Made in Japan and signed by Mario Macaferri himself. This guitar is an amazing piece of Gypsy jazz history! How exciting to own something that was designed and even signed by the master guitarist and luthier extraordinaire Mario Maccaferri! More on the history below....

This wonderful guitar was made by Ibanez in the late 70s/early 80s. It features:

-An updated version of the classic Maccaferri guitar redesigned by none other than Mario Maccaferri himself!
-12 fret neck
-16" body
-640mm scale
-4 piece bearclaw spruce top (interestingly the top is divided into 4 quarters)
-Indian Rosewood back and sides
-Mahogany neck
-One of a kind Maccaferri "M" tailpiece
-Appears to have a real pliage (today only ultra high end guitars like the Dupont VR and Barault have a real pliage. Most luthiers use the forced top method instead).

This guitar hales from the legendary "lawsuit" years of Japanese guitar production. During this time highly skilled Japanese craftsman were producing copies Gibsons, Martins, Fenders, etc that looked almost identical to the originals and often sounded as good or better! These copies ceased to be produced after numerous lawsuits. Interestingly, the MAC10 's story is a little different, see below.

In early 1974, British guitarist Maurice Summerfield contracted Hoshino Gakki of Japan to build copies of the legendary Selmer Maccaferri guitar. These guitars were built by the Kiso Suzuki factory and sold under the brand name CSL. Around 1,300 of these guitars were made.

Later, Mario Maccaferri himself took interest in the project which resulted in the MAC10 model produced by Ibanez from 1979 to 1983. The MAC10 featured numerous design improvements and sold for almost twice the price of the CSL model. Only 440 MAC10s were produced. In the later years of production Maccaferri became critical of the instruments quality and refused to sign the label. This particular MAC10 was one that he approved and signed.

Some of the unique features of the MAC10 include:

-A 5 brace top (an extra brace was added between the soundhole and heel.
-A 4 brace back (the original Maccaferris only had three braces on the back
-A center spline on the back
-No zero fret
-A truss rod accessed from the headstock
-Large 16" body (originals were 15 3/4")

The condition of this guitar is perfect...best described as "like new!" Playability is perfect with low, comfortable action. It sounds great with lush lows and thick mids you'd expect of a D hole. It's really well suited to recreating the sound of Django's early recordings.

This is the CASH price...add 3% if you'd like to pay with a credit card. 4% for International orders.
Software: Kryptronic eCommerce, Copyright 1999-2021 Kryptronic, Inc. Exec Time: 0.313062 Seconds Memory Usage: 4.505997 Megabytes