Cigano GJ-10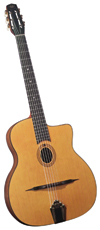 Cigano
From the complicated playing techniques, to the limited availability of truly affordable instruments necessary to capture that proper Gypsy tone,&#65279; the obstacles to learning how to play Gypsy Jazz music can easily discourage the seasoned guitarist, let alone a beginner. To make it even easier to begin this exciting journey, Saga Musical Instruments and Gitane guitars introduce the new GJ-10 Cigano Student Gypsy Jazz guitar! Its long-scale, oval-hole design gives it that, fast playability, cutting power and characateristic tone making it the perfect lead instrument. Value, tone, playability and workmanship will meet or exceed any players expectations. <ul> <li>Solid Sitka spruce top</li> <li>Beautiful Asian rosewood back and sides</li> <li>Long scale, oval hole design</li> <li>Nato neck with rosewood fingerboard</li> <li>Deep horizontal cutaway</li> <li>Black plastic body binding</li> <li>Traditional "zero" fret, with bone string guide</li> <li>Mahogany peghead overlay with Cigano logo</li> <li>Ebony moustache bridge with movable center</li> <li>Traditional brass tailpiece with plastic insert</li> <li>Accurate gold-plated tuners with 14:1 ratio </li> <li>Shop-adjusted</li> </ul>
Arts & Entertainment > Hobbies & Creative Arts > Musical Instruments > String Instruments > Guitars > Acoustic Guitars
cigano-gj-10
GJ-10
4.7
14
Knuty
Really loud and explosive. And I like the thin neck. You dont need any upgrades in my opinion.
Rob Dircks
I love this guitar, it's super fun to play, has that great percussive sound I was looking for. As a casual player, I was looking for something that wouldn't break the bank on something that's not my core instrument, and this fits the bill nicely. And the service? Holy cow, the only other music store that comes close is Sweetwater, Michael is great.
Rona
Hi Michael, I have received my guitar and case, and am very happy with it! I've been playing the heck out of it! Fascinated with the resonance, tone, and volume! Can't wait to try it at next gig, four days from now... Thank you so much for your help and quick response over the holidays! I plan to do more business with you in the future. Much harmony to you!
Jeff
Before I bought the guitar, Cigano GJ-10, Michael was really helpful and answered all of my emails in a timely fashion. When I ordered the guitar I couldn't believe how fast I got it from Seattle to Chicago. I took the guitar out of the case , tuned it up and after breaking in the new strings, this thing has stayed in tune great, and more importantly it sounds fabulous. Great first Gypsy guitar if you can't afford a few thousand bucks, and Michael is really great to work with.
Galen
We'll remand this guitar for a student! The neck seems to be fast... good sound! Make sure you have the up grade done.. 197.00 when ordering it! Remembering it's made in China. With that said... it works well and EZ on your fingers to play. 1" 3/4 neck helps if you have big fingers. Michael is very helpful with any questions!!
hanear21
This was the first guitar I ordered online and thus I was a little nervous about what I would be getting. Looking around the internet, this guitar gets very mixed reviews. It's so cheap though that I could afford to get some of the optional set up work done on it, and boy am I glad I did! The guitar arrived in perfect shape and plays wonderfully. It has that signature Selmer sound and projects much better than my Martin D-16. I was also very impressed with how quickly it shipped. Based on th...
Spider
As my first GJ guitar, I really had no idea what to expect after playing a nice Martin Auditorium for the last ten years. Michael answered all my questions thoroughly and promptly, suggesting the set up special, as well as popular choices for picks and strings. All I can say is that several hours after receiving it, I could not be more happy! This is a beautiful little guitar! The set-up and bridge/action work was extremely well done, and I could just not be more pleased in any regard!I also opt...
mango
i bought the cigano gj10 and was not surprised at the beauty and quality of this instrument, as it has been well documented on this site,so id like to say a few words about the service i recieved, firstly all my emails where answered within hours, when i did make my purchase (which delivered to england) even with the cost of shipping was still much cheaper than buying here, so i was able to treat myself to a superior deluxe case as well, happy days!! whith the tracking number icould see it was o...
stevenyoung1
I am really pleased with my recent purchase of the Saga Cigano GJ-10 for my daughter from Djangobooks! Michael even contacted me by phone to help answer my questions! I would recommend this guitar for anyone who wants to get the gypsy sound for a reasonable price!!
sdecuadro
Considering the value of the guitar it sounds very good with the right brand of strings.It is also comfortable to play on it and boost your speed. It gets in tune without problems till now. It looks nice too. It is an encouraging instrument to learn and play gypsy jazz.
499.00
DjangoBooks.com
https://www.djangobooks.com/Item/cigano-gj-10
Software: Kryptronic eCommerce, Copyright 1999-2019 Kryptronic, Inc. Exec Time: 0.183127 Seconds Memory Usage: 4.866287 Megabytes