2014 Castelluccia Sweet Chorus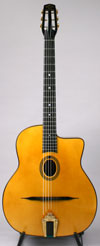 Castelluccia
An absolute tone monster from one of Paris' oldest running workshops!
Arts & Entertainment
castelluccia-sweet-chorus
Sweet Chorus
View Offer
DjangoBooks.com
https://www.djangobooks.com/Item/castelluccia-sweet-chorus
2014 Castelluccia Sweet Chorus
2014 Castelluccia Sweet Chorus
The Castelluccia family has constructed Gypsy guitars for three generations, making them the oldest continually running Gypsy guitar manufacturer in France. The shop was founded by Jean-Baptiste Castelluccia, an Italian immigrant who was one of many of the skilled Italian luthiers to arrive in Paris during the early 20th Century. The shop is now lead by Jean-Baptiste's grandson, who is also named Jean-Baptiste, and continues to build the unique Gypsy models of his grandfather as well as more conventional Selmer copies. With nearly a century of collective experience, the Castelluccia shop continues to build some of the best sounding and most affordable Gypsy guitars made in France. As the market for Castelluccias built in the 50s and 60s has heated up over the years, it's wonderful to have the option of buying a brand new Castelluccia at almost half the cost of what the vintage ones goes for.

As one of Castelluccia's premiere models, it features Indian rosewood back and sides, a spruce top, and a walnut neck. The dimensions are typically Selmer, with a 670mm scale length and an ever so slightly larger lower bout that measures 15 7/8" across. This instrument is fitted with Castelluccia's own JC tailpiece.

Notable design features include gently rounded binding which adds additional comfort by not pressing into your body like more conventional binding does. Additionally, the bridge includes a replaceable ebony saddle, a feature rarely found on Selmer style bridges which are normally fashioned from one piece of solid wood. You can easily adjust the action the by simply swapping out the saddle piece for one of a different height.

If anyone knows what a Gypsy guitar should sound like, it's JB Castelluccia. Three generations of Gypsy guitar building experience goes into each guitar he makes. This guitar is a testament to that fact as the tone and projection of this instrument far exceed what one would expect in this price range. The Sweet Chorus model is notable for its robust midrange which produces thick, meaty chords and rounded, mellifluous lead lines. The solid spruce top generates torrents of volume with little effort, yet when played sensitively it yields a pleasing, sonorous tone. A traditional Gypsy guitar through and through, this wonderful instrument will exceed expectations around the campfire or on the concert stage.

This superb instrument is one of the rare opportunities to buy a French made, flagship model Gypsy guitar from a notable luthier for under $6K. This beautiful, yet very practical instrument is a dream come true for the hardworking player who needs an exceptional instrument at an affordable price. We can all thank Jean-Baptiste for making these fabulous guitars available at good prices!

This is the CASH price...add 3% if you'd like to pay with a credit card. 4% for International orders.
| | |
| --- | --- |
| Brand | Castelluccia |
| Year | 2014 |
| Model Number | Sweet Chorus |
| Serial Number | 1120-3J |
| Sound Hole | Oval |
| Fret Neck | 14 Fret |
| Condition | New |
| Size | 15 7/8" |
| Scale Length | 670mm |
| Nut Width | 1 3/4" |
| Body Depth | 3 13/16" |
| Top | Spruce |
| Back and Sides | Indian Rosewood |
| Neck | Walnut |
| Fingerboard | Ebony |
| Binding | Rosewood |
| Finish | Nitrocellulose |
| Tailpiece | Castelluccia |
| Tuners | Three on a Plate |
| Action | 3.2mm |
| Strings | Argentine 1510MF |
| Case | None |
| Pickup(s) | None |
| Truss Rod | Yes |
| Weight | 4 lbs |
Software: Kryptronic eCommerce, Copyright 1999-2021 Kryptronic, Inc. Exec Time: 0.080028 Seconds Memory Usage: 4.521126 Megabytes