1960s Jacques Castelluccia ***NEW PRICE***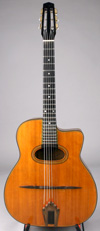 Castelluccia
Rare short scale version of Castelluccia's classic model.
Arts & Entertainment
castelluccia-1960-d-hole-3
D Hole
View Offer
DjangoBooks.com
https://www.djangobooks.com/Item/castelluccia-1960-d-hole-3
1960s Jacques Castelluccia ***NEW PRICE***
1960s Jacques Castelluccia ***NEW PRICE***

This fantastic instrument was built sometime in the 1960s by Jacques Castelluccia. Castelluccia was one of the many famous Italian luthiers to make his name in France (along with Busato, DiMauro, Catania, Anastasio, Bucolo, etc.)

While the price of guitars made by Busato (along with other Italian makers such as Favino and Maccaferri) have skyrocketed in recent years, Castelluccia's have been largely overlooked. But after playing this guitar, I think anyone would agree that Castelluccia was also capable of building guitars on par with his more famous contemporaries.

This instrument features a much shorter scale than is common for this model. At only 620mm, it is one of the shortest scale guitars in the shop. The neck appears to have been replaced which may account for the shorter scale.

This instrument is in excellent condition. It has a few scratches and dings and there is one top crack that was cleated. At some point a large soundpost was installed under the fingerboard which provides additional support to the top. The hardware was replaced with tuners and a tailpiece of unknown origin. The bridge and moustache pieces were fashioned from one piece of wood. On the top there are two strips of attractive green checkered purfling which run alongside the fingerboard.

The current setup features very slick 2.2mm action which, along with the short 620mm scale, make this guitar one of the easiest playing in the shop.

The tone of this instrument is full bodied, open, and wonderfully complex. As with most vintage guitars, it posses a maturity of sound that is rarely found in new instruments. The high end is crisp and clear while the mid range is full, yet defined. It produces a joyous pompe, making it an excellent rhythm guitar. However, it's ability to project single note lines make it a more than capable lead guitar. This unique set of characteristics, along with it's unusually short scale, make it a great choice for rhythm players who play the occasional lead. It's the perfect all around guitar!

This guitar has a Paul Beuscher label. Castellucia, along with Favino and other luthiers of that time, often built guitars to be sold in Paul Beuscher's store. These guitars were rebranded with the Beuscher label but otherwise do not differ from the models these luthiers made under their own names.

This is the CASH price...add 3% if you'd like to pay with a credit card. 4% for International orders.
| | |
| --- | --- |
| Brand | Castelluccia |
| Year | 1960s |
| Model Number | D Hole |
| Serial Number | None |
| Sound Hole | D Hole |
| Fret Neck | 13.25 Fret |
| Condition | Very Good |
| Size | 15 3/4" |
| Scale Length | 620mm |
| Nut Width | 1 13/16" |
| Body Depth | 3 7/8" |
| Top | Spruce |
| Back and Sides | Cuban Mahogany |
| Neck | Mahogany |
| Fingerboard | Ebony |
| Binding | Ebony Rope |
| Finish | Semi Gloss |
| Tailpiece | Unkown |
| Tuners | Unkown |
| Action | 2.2mm |
| Strings | Argentine 1510MF |
| Case | Hardshell |
| Pickup(s) | None |
| Truss Rod | None |
| Weight | 4.1 lbs |
Software: Kryptronic eCommerce, Copyright 1999-2021 Kryptronic, Inc. Exec Time: 0.10019 Seconds Memory Usage: 4.513046 Megabytes