USED Calton Custom Gypsy Jazz Flight Case (Selmer Size- 15 3/4'')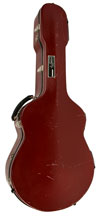 Default Manufacturer
USED Calton Custom Gypsy Jazz Flight Case (Selmer Size- 15 3/4'')
Arts & Entertainment
calton-case-4
9920
View Offer
DjangoBooks.com
https://www.djangobooks.com/Item/calton-case-4
USED Calton Custom Gypsy Jazz Flight Case (Selmer Size- 15 3/4'')
USED Calton Custom Gypsy Jazz Flight Case (Selmer Size- 15 3/4'')
A custom Calton Case made for Selmer style guitars. This is a great deal as these cost around /00 new and take 6 months or more to get. Calton's are the ultimate flight cases and are nearly indestructible. The #1 choice for pros constantly on the move.

This case is in very good conditon. The exterior of the case has numerous minor scratches and scrapes. The interior is pristine and hardware is all in perfect condition.

This case fits both 12 fret and 14 fret Selmer type guitars. Busato and Favinos guitars are too big so they won't fit.



Software: Kryptronic eCommerce, Copyright 1999-2023 Kryptronic, Inc. Exec Time: 0.078626 Seconds Memory Usage: 4.500343 Megabytes