2006 Burrows Gadjo ***New Price!***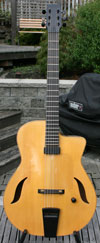 Burrows
Benedetto-esque Selmer/Archtop hybrid built in beautiful Vancouver, B.C.
Arts & Entertainment > Hobbies & Creative Arts > Musical Instruments > String Instruments > Guitars > Acoustic Guitars
burrows-gadjo
Gadjo
View Offer
DjangoBooks.com
https://www.djangobooks.com/Item/burrows-gadjo
2006 Burrows Gadjo ***New Price!***
2006 Burrows Gadjo ***New Price!***
This wonderful instrument combines elements of both archtop and Selmer Maccaferri guitars. The result is a highly flexible and adaptable instrument which is equally at home in both acoustic and electric situations. Although rare, archtop/Gypsy hybrid designs are nothing new and have been used by players like Frank Vignola for many years. What is unusual is the opportunity to have a finely made, specialized instrument at an entry level price. Benedetto is the most prolific maker of this style of guitar and his archtop/Gypsy models start at $10K.

Vancouver B.C. based luthier Jarred Burrows specializes in building unique, yet very practical instruments constructed largely from locally sourced Canadian woods. The top is carved from sitka spruce, the back, sides, and neck are figured walnut, and the fingerboard is ebony. Burrow's workmanship and design are of the highest caliber. This visually stunning guitar combines elements you'd expect of archtop building legend James D'Aquisto (solid wood cello style tailpiece, "clean" fingerboard sans position makers, leaf style soundholes, solid ebony adjustable bridge) with that of the pioneering Italian luthier Mario Maccaferri (Selmer style cutaway and body shape.)

The body is a tad slimmer than your average Selmer: 15 1/2" wide and 2 7/8" deep. The 25 1/2" scale length allows for easy stretches while preserving some of the snap of the long scale Selmer design. The nut width is a standard 1 3/4".

Sonically this guitar is full of surprises! The outstanding feature of this guitar is it's ability to produce the loud, punchy sound required for Gypsy playing while maintaining the full, rich archtop electric tone that is so nice when playing in large halls and/or groups. Supremely open and resonate in tone, this guitar produces notes which are bathed in the rich complexity only a carved top can produce. Yet, it is far louder than even the more punchy archtops and therefore will have no problem competing in acoustic Gypsy situations. It posses some nice "stinging highs" which allow the leads to carry nicely. The bass register is clear but not too heavy or overbearing. Chords have a nice clear, midrange focus which is both full and directed.

Amplifying Selmer Maccaferri guitars is notoriously difficult which makes this hybrid design all the more useful. The installed Bartolini humbucker frees you from the hassles of Gypsy guitar pickups by reliably producing a rich, warm tone at very high volumes. Amplified the guitar still retains some it's Selmer character which is nice as most Gypsy players don't want the overly sterile, bland tone that is often associated with archtop jazz. The volume control is well placed and comes in handy when switching back and forth between lead and rhythm levels.

All in all, a fantastic instrument at a price many luthiers would charge 4x more for! A great piece for the gigging Gypsy guitarist who needs something versatile, reliable, and relatively inexpensive.

This is the CASH price...add 3% (4% for International orders) if you'd like to pay with a credit card.






| | |
| --- | --- |
| Brand | Burrows |
| Year | 2006 |
| Model Number | Gadjo |
| Sound Hole | Leaf Holes |
| Fret Neck | 14 Fret |
| Condition | Excellent |
| Size | 15 1/2" |
| Scale Length | 650mm |
| Nut Width | 1 3/4" |
| Body Depth | 2 7/8" |
| Top | Sitka Spruce |
| Back and Sides | Walnut (Solid) |
| Neck | Walnut |
| Fingerboard | Ebony |
| Binding | Maple |
| Finish | French Polish |
| Tailpiece | Ebony |
| Tuners | Gotoh |
| Action | 2.7mm |
| Strings | D'Addario Nickel 12 gauge |
| Case | Fender Softshell |
| Pickup(s) | Bartolini Mini Humbucker |
| Truss Rod | Yes |
| Weight | 4.8 lbs |
Software: Kryptronic eCommerce, Copyright 1999-2020 Kryptronic, Inc. Exec Time: 0.123495 Seconds Memory Usage: 4.352715 Megabytes