2011 Bumgarner Selmer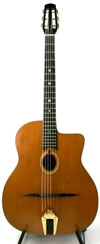 Bumgarner
Features a 4 brace, heat bent pliage top, just like Django's Selmer 503!
Arts & Entertainment > Hobbies & Creative Arts > Musical Instruments > String Instruments > Guitars > Acoustic Guitars
bumgarner-selmer-2
Selmer
View Offer
DjangoBooks.com
https://www.djangobooks.com/Item/bumgarner-selmer-2
2011 Bumgarner Selmer
2011 Bumgarner Selmer
I'm pleased to have this wonderful guitar for sale from Craig Bumgarner, a Maryland based luthier who has long been a regular participant in the Gypsy jazz community both on our forum, at festivals, and with his own group the Hot Club of DC. A boat builder by trade, Craig has turned his highly refined wood working skills towards the art of Selmer Maccaferri style luthierie.

This is Craig's Selmer style model which is modeled closely after the original Selmer petite bouche design. The dimensions are what you would expect: a 15 3/4" body and a 670mm scale. The top was constructed from a fine piece of western red cedar and was heat bent in the manner of the original Selmers (a heat bent pliage top is a high end feature normally reserved for flagship models double the price of this instrument!) Furthermore, the top has only four braces which is an unusual feature that was also present in Django's legendary Selmer #503. In an effort to produce a warmer tone with more clarity and definition, Craig opted for beautiful African moabi back and sides. The neck was fashioned from an attractive piece of butternut wood and is reinforced using carbon-fiber rods. This is similar to Selmer's original neck design and is very resilient and lightweight, allowing for greater resonance than a heavier truss rod would allow. The savings in weight is planinly evident as the guitar only weighs a mere 3.4 lbs!

Craig did a wonderful job of capturing Django's classic tone, making this guitar a great choice for those looking for a traditional Gypsy sound and feel. This instrument posses the warm mids, rounded highs, and barking projection that are associated with Django's classic performances. Furthermore, the guitar's dry response and low end clarity produce a defined and focused stream of sound that allows one to be easily heard in even the most volume challenged situations. Already mature out of the box, one can only imagine what an exquisite tone this guitar will develop after years of playing!

It is rare I have handmade guitars of this quality for under $4000, and even rarer ones that sound this good. This instrument is no doubt a fantastic deal so take advantage of this attractive price as I'm sure Craig's prices will go up has his reputation grows.

This is the CASH price...add 3% (4% for International orders) if you'd like to pay with a credit card.


| | |
| --- | --- |
| Brand | Bumgarner |
| Year | 2011 |
| Model Number | Selmer |
| Sound Hole | Oval |
| Fret Neck | 14 Fret |
| Condition | New |
| Size | 15 3/4" |
| Scale Length | 670mm |
| Nut Width | 1 11/16" |
| Body Depth | 3 13/16" |
| Top | Western Red Cedar |
| Back and Sides | Moabi |
| Neck | Honduras Mahogany |
| Fingerboard | Ebony |
| Binding | Ebony |
| Finish | Polished Oil Based Alkyd Varnish |
| Tailpiece | DR |
| Tuners | Grover |
| Action | 2.8mm |
| Strings | Argentine 1510MF |
| Case | None |
| Pickup(s) | None |
| Truss Rod | None |
| Weight | 3.4 lbs |
The original "Wegen" Gypsy Guitar pick. 3.5mm thick, 30mm long, 26mm wide.
The original Gypsy jazz strings! Used by Django Reinhard and nearly every other Gypsy guitarist.
Vintage Django tone for Selmer/Maccaferri oval hole guitars.
Software: Kryptronic eCommerce, Copyright 1999-2020 Kryptronic, Inc. Exec Time: 0.087161 Seconds Memory Usage: 4.455872 Megabytes