2012 Bumgarner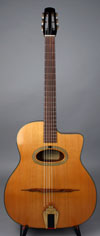 Bumgarner
Wonderful Castelluccia inspired guitar made in Drayden, MD.
Arts & Entertainment > Hobbies & Creative Arts > Musical Instruments > String Instruments > Guitars > Acoustic Guitars
bumgarner-2012
Castelluccia
View Offer
DjangoBooks.com
https://www.djangobooks.com/Item/bumgarner-2012
2012 Bumgarner
2012 Bumgarner
I'm pleased to have my first guitar for sale from Craig Bumgarner, a Maryland based luthier who has long been a regular participant in the Gypsy jazz community both on our forum, at festivals, and with his own group the Hot Club of DC. A boat builder by trade, Craig has turned his highly refined wood working skills towards the art of Selmer Maccaferri style luthierie. Interestingly, Craig has forgone the usual obsession that most luthiers have with the petite bouche Selmer design, and instead has taken much of his inspiration from Selmer's competitors. One of his biggest influences are the unique and wonderful designs of Jacques Castelluccia. Craig has had the good fortune to have studied first hand many of the best vintage guitars from the "Golden Era" of French lutherie, an invaluable experience which has allowed him to produce some of the best traditional sounding Gypsy guitars available.

This wonderful guitar posses so many of the qualities that top professionals look for: bright, shimmery highs; tight, defined lows; a nice midrange growl; and fantastic projection. Similar to that of many high priced vintage guitars, this guitar produces a mature and cutting high end which will make your leads easily heard above even the most aggressive rhythm players. There is also a nice open complexity to the sound that adds a wash of interesting harmonics to anything that you play. The most notable aspect of the tone is its "old school" character and mojo. It really brings you back to Paris circa 1960 with a classic tone that you'd expect to hear on a long lost bootleg of some anonymous Gypsy virtuoso.

Much of the classic tone of this instrument is produced by its Castelluccia inspired three brace design. Selmer and most other luthiers use four or five braces. Casetlleuccia used only three which helps increase the volume and frequency response of the guitar. Additionally, this instrument has the unique Castelluccia style D hole which has an attractive, more organic looking roundness to it. The performance of this instrument is further aided by its lightweight design. At only 3.8 lbs, this instrument is free to resonate without the added burden of excess mass which explains its unusually good projection.

The vintage tone of this instrument is at least partially due to its cedar top, a wood known for sounding "broken in" even when new which is certainly the case here. The back and sides are fashioned from an attractive piece of African cherry and embellished with a style of rope binding very common among midcentury French luthiers. The mahogany neck is bolted on rather than glued. This method is generally considered superior to a glued on neck as it is stronger and easier to adjust if need be while having no impact on the sound and performance of the guitar.

It is rare I have handmade guitars of this quality for under $4000, and even rarer ones that sound this good. This instrument is no doubt a fantastic deal so take advantage of this attractive price as I'm sure Craig's prices will go up has his reputation grows.
This is the CASH price...add 3% (4% for International orders) if you'd like to pay with a credit card.
| | |
| --- | --- |
| Brand | Bumgarner |
| Year | 2012 |
| Model Number | Castelluccia |
| Serial Number | None |
| Sound Hole | D Hole |
| Fret Neck | 14 Fret |
| Condition | New |
| Size | 15 3/4" |
| Scale Length | 670mm |
| Nut Width | 1 3/4" |
| Top | Western Red Cedar |
| Back and Sides | Makore (African Cherry) |
| Neck | Honduras Mahogany (Bolt On) |
| Fingerboard | Indian Rosewood |
| Binding | Black w/Rope |
| Finish | Polished varnish |
| Tailpiece | DR |
| Tuners | Waverly |
| Action | 2.8mm |
| Strings | Argentine 1510 |
| Case | Access Hardshell |
| Pickup(s) | None |
| Truss Rod | None |
| Weight | 3.8 lbs |
The original "Wegen" Gypsy Guitar pick. 3.5mm thick, 30mm long, 26mm wide.
The original Gypsy jazz strings! Used by Django Reinhard and nearly every other Gypsy guitarist.
Vintage Django tone for Selmer/Maccaferri oval hole guitars.
Software: Kryptronic eCommerce, Copyright 1999-2020 Kryptronic, Inc. Exec Time: 0.085391 Seconds Memory Usage: 4.464676 Megabytes