2016 Holo Modele Traditional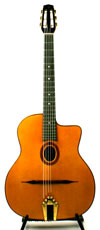 Holo
The latest from the workshop of the illustrious Bob Holo.
Arts & Entertainment
bob-holo-2016-noveau-2
Traditional
View Offer
DjangoBooks.com
https://www.djangobooks.com/Item/bob-holo-2016-noveau-2
2016 Holo Modele Traditional
2016 Holo Modele Traditional
Bob has made a name for himself over the last few years as an aficionado of the Franco-Italian guitar designs of Selmer, Maccaferri, Busato, Favino, etc. He spent years studying vintage Selmer style guitars including nearly every Selmer, Favino, and Busato that has come through our shop. He has taken on the challenge of making new guitars that have the elusive and ineffable qualities heard in the very best vintage Selmer type guitars. Few will doubt he has been incredibly successful in his quest, as his guitars are now in the hands of many of today's leading players: Rocky Gresset, Stephane Wrembel, Mathieu Chatelain, Neil Andersson, Antoine Boyer, Alfonso Ponticelli, etc. Bob has essentially been a "luthier for the stars" these past few years...but now you can take home one of these gems yourself!

This is Bob's Traditional model which The body is standard Selmer size (15 3/4") and the scale is 670mm.

The top is made from aged spruce, the back and sides are made of Indian rosewood, and the neck is black walnut . The fingerboard is made of ebony. The interior is lacquered in the tradition of the original Selmers.

The Rosewood bridge is a new compensated design....looks really cool and does a great job intonating the guitar.

This guitar elicits a tone that is powerful, complex, and open; making it a wonderful choice for both traditional and modern Gypsy jazz. It has unusually good definition and voice separation which yields crisp chords and cutting leads. This instrument projects wonderfully and plays like butter with low, easy 2.8mm action. Come and treat yourself to Bob's most famous model, you won't be disappointed!

This is the CASH price...add 3% (4% for International orders) if you'd like to pay with a credit card.



| | |
| --- | --- |
| Brand | Holo |
| Year | 2016 |
| Model Number | Traditional |
| Serial Number | #86 |
| Sound Hole | Oval |
| Fret Neck | 14 Fret |
| Condition | New |
| Size | 15 3/4" |
| Scale Length | 670mm |
| Nut Width | 1 3/4" |
| Body Depth | 3 7/8" |
| Top | Spruce |
| Back and Sides | Indian Rosewood |
| Neck | Walnut |
| Fingerboard | Ebony |
| Binding | Rosewood |
| Finish | Gloss Lacquer |
| Tailpiece | DR Gold |
| Tuners | Schaller Classic Deluxe (Gold) |
| Action | 2.8mm |
| Strings | Argentine 1510MF |
| Case | Superior Deluxe Black |
| Pickup(s) | None |
| Truss Rod | Yes |
| Weight | 3.9 lbs |
The original "Wegen" Gypsy Guitar pick. 3.5mm thick, 30mm long, 26mm wide.
The original Gypsy jazz strings! Used by Django Reinhard and nearly every other Gypsy guitarist.
Vintage Django tone for Selmer/Maccaferri oval hole guitars.
Software: Kryptronic eCommerce, Copyright 1999-2021 Kryptronic, Inc. Exec Time: 0.097692 Seconds Memory Usage: 4.621162 Megabytes