eBook: Bailey Ukulele Method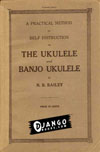 Default Manufacturer
This is an extremely rare method written in 1914. It cover all the basics of Ukulele playing.
Arts & Entertainment
bailey_ukulele_method
4005
10.00
DjangoBooks.com
https://www.djangobooks.com/Item/bailey_ukulele_method
eBook: Bailey Ukulele Method
eBook: Bailey Ukulele Method
Includes diagrams for dozens of chords. Detailed instruction on strumming techniques. Over a dozen songs are included.
The Ukulele Play-Along series will help you play your favorite songs quickly and easily, with incredible backing tracks to help you sound like a bona fide pro!
Software: Kryptronic eCommerce, Copyright 1999-2020 Kryptronic, Inc. Exec Time: 0.082119 Seconds Memory Usage: 4.570595 Megabytes