1950s Antoine Di Mauro Modele Django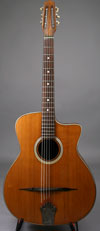 Di Mauro
Rare roundhole model from one of France's most notable luthiers. A true sleeper with great vintage tone for less.
Arts & Entertainment
antione-di-mauro-roundhole
Modele Django
1950.00
DjangoBooks.com
https://www.djangobooks.com/Item/antione-di-mauro-roundhole
1950s Antoine Di Mauro Modele Django
1950s Antoine Di Mauro Modele Django
Antoine Di Mauro was part of the mass emigration of master Sicilian luthiers (Busato, Oliveri Anastasio, etc) who left Catania in the early 20th century. In the 1930s Di Mauro and his countrymen setup a series of shops on the East side of Paris and quickly adapted their skills to making jazz guitars in the Selmer Maccaferri style. Di Mauro was certainly one of the most successful and long lasting of these Franco-Sicilian luthiers as his guitars were widely adopted by players of many styles. Notable players include Moreno, Boulou Ferre, Patrick Saussois, Samy Daussat, Jean-Yves Dubanton, and even Pat Metheny! Di Mauro guitars were produced continuously until the early 90s, first by Antoine and then later by his son Joseph.


This unusual example of Antoine's work features a round soundhole, a 12 fret neck, and a short 640mm scale. The marque au fer appears on the back of the headstock. The top is supported with four braces while the slightly bent back has only one brace. Antoine used tentalone lining which I've seen on other guitars he built, a technique seemingly unique to him in the Selmer guitar world. The condition is very good and it was recently restored so it plays very smoothly with 2.5mm action. There are two cracks which run the length of the top that have been cleated and appear stable. The fingerboard was replaned and the frets are new.

Every so often I get an seemingly innocent looking instrument that shows little promise that subsequently blows my socks off! This is one of those rare "sleepers" that is off the radar of collectors yet has the classic tone and projection of some of the high dollar vintage guitars. It posses a wonderfully mature highend that is crisp, and clear. You simply do not find this sort of clarity in new guitars at any price. Additionally, it is fairly dry with a present, but controlled low end. As a 12 fret guitar, it's primary function would be as a rhythm guitar, a role it can fill as well as any. However, it is surprisingly punchy for leads as well, and with only 2.5mm action you can actually pull off some very technical runs with ease. If your rhythm player is looking for an upgrade, this is it!

This is the CASH price...add 3% if you'd like to pay with a credit card. Add 4% for international credit card orders.




| | |
| --- | --- |
| Brand | Di Mauro |
| Year | 1950s |
| Model Number | Modele Django |
| Serial Number | None |
| Sound Hole | Roundhole |
| Fret Neck | 12 Fret |
| Condition | Very Good |
| Size | 15 5/8" |
| Scale Length | 640mm |
| Nut Width | 1 3/4" |
| Top | Spruce |
| Back and Sides | Mahogany |
| Neck | Mahogany |
| Fingerboard | Rosewood |
| Binding | Ebony |
| Finish | Vintage |
| Tailpiece | Nickel |
| Tuners | 3 on a plate |
| Action | 2.5mm |
| Strings | Argentine 1510 |
| Case | Hardshell |
| Pickup(s) | None |
| Truss Rod | None |
| Weight | 3.35 lbs |
Software: Kryptronic eCommerce, Copyright 1999-2021 Kryptronic, Inc. Exec Time: 0.115166 Seconds Memory Usage: 4.696701 Megabytes