1950s Antoine Di Mauro Boogie Woogie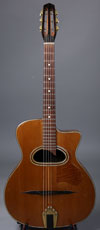 Di Mauro
Deep sounding, strong voiced instrument from the golden age of French luthiery.
Arts & Entertainment
antione-di-mauro
Boogie Woogie
View Offer
DjangoBooks.com
https://www.djangobooks.com/Item/antione-di-mauro
1950s Antoine Di Mauro Boogie Woogie
1950s Antoine Di Mauro Boogie Woogie
Antoine Di Mauro was part of the mass emigration of master Sicilian luthiers (Busato, Oliveri Anastasio, etc) who left Catania in the early 20th century. In the 1930s Di Mauro and his countrymen setup a series of shops on the East side of Paris and quickly adapted their skills to making jazz guitars in the Selmer Maccaferri style. Di Mauro was certainly one of the most successful and long lasting of these Franco-Sicilian luthiers as his guitars were widely adopted by players of many styles. Di Mauro guitars were produced continuously until the early 90s, first by Antoine and then later by his son Joseph.

This Boogie Woogie model is Di Mauro's Maccaferri inspired instrument. It features a 12 fret neck, a 640mm scale, and a slightly larger 16 1/8" body. The top is spruce, the back sides are Cuban mahogany, the neck is mahogany, and the fingerboard is rosewood. The back binding is beech wood and the top binding is walnut which is decorated with 5 ply purfling. The Maccaferri inspired rosette features 14 black and white bands with a red center band. The tailpiece and tuners have both been upgraded with Dupont DR hardware and the frets are new. The curly maple pickguard is original.

The condition is excellent, with no cracks and just some light wear on the top. Numerous small scratches and dings pepper the top, but nothing serious. This instrument has been very well preserved and looks as if it's had very little playing during its long life.

If you're looking for the ultimate rhythm guitar than this is it! The sound is huge, with the kind of projection you only find in guitars over 60 years old. The bass is glorious: rich, full, and tight making chords sound almost pianistic in their depth and complexity. It's a pompe machine like no other! However, it still is fun to play lead on despite the shorter scale and 12 fret neck. It still does a great job projecting single note lines and is a great guitar if you want to get a sound similar to Django's very early recordings done with a Maccaferri.
This is the CASH price...add 3% if you'd like to pay with a credit card. Add 4% for international credit card orders.


| | |
| --- | --- |
| Brand | Di Mauro |
| Year | 1950s |
| Model Number | Boogie Woogie |
| Serial Number | None |
| Sound Hole | D Hole |
| Fret Neck | 12 Fret |
| Condition | Very Good |
| Size | 16 1/8" |
| Scale Length | 640mm |
| Nut Width | 1 13/16" |
| Top | Spruce |
| Back and Sides | Cuban Mahogany |
| Neck | Mahogany |
| Fingerboard | Rosewood |
| Binding | Walnut/Beech |
| Finish | Vintage |
| Tailpiece | DR Gold |
| Tuners | DR closed |
| Action | 3.4mm |
| Strings | Argentine 1610MF |
| Case | Hardshell |
| Pickup(s) | None |
| Truss Rod | None |
| Weight | 3.5 lbs |
Software: Kryptronic eCommerce, Copyright 1999-2020 Kryptronic, Inc. Exec Time: 0.101771 Seconds Memory Usage: 4.506226 Megabytes