1990 Pierre Anastasio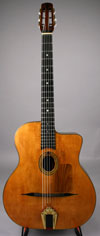 Anastasio
Here's a chance to own a guitar with gorgeous Brazilian woods for less!
Arts & Entertainment
anastasio-1990
14 Fret
View Offer
DjangoBooks.com
https://www.djangobooks.com/Item/anastasio-1990
1990 Pierre Anastasio
1990 Pierre Anastasio
Here's an opportunity to get great vintage sound at a fraction of the price of big names, like Favino, Busato, and Selmer. This wonderful guitar was built by Pierre Anastasio, a major fixture of the Parisian lutherie scene from the 60s through the early 90s. He is most famous for the guitars he built for Angelo Debarre during the early part of his career (one of which he used on the famous Gypsy Guitars CD.)
This premium example of Anastasio's work features gorgeous Brazilian rosewood back and sides, a spruce top, and a walnut neck. The top has been fitted with an attractive wood pickguard and it's equipped with an active bigtone bridge pickup (there's a 9v battery powered preamp inside the guitar. The bridge was actually constructed out of two pieces, with the piezo element sandwiched in-between.) The tailpiece appears to be original, the tuners have been replaced with a set of Gotoh Lyre style tuners.

The sound of this instrument is particularly strong in the midrange, yielding rounded horn-like leads and full-bodied chords. It's tonal balance is reminiscent of some of Favino's best work which is characteristically warm with a pronounced midrange honk. In fact, I'd go as far to call this instrument a "budget Favino" as the tone and performance are so similar to that of Favino guitars going for close to $10K.

This guitar responds particularly well to those with a strong right hand, as the harder you play it the better it sounds. It has certainly been played regularly over its more than two decades of life and has the tonal maturity you'd expect of a well worn instrument. You rarely find new guitars with the character and complexity that this guitar posses. It has a sound that evokes the 60s era Gypsy bars of Paris which were filled with the earthy style of such greats as the Mondine and Ninine Garcia, Tchan Tchou Vidal, and Bousquet.

The condition of this instrument is very good. It has numerous dings, scratches, and some light checking here and there. The most noticeable damage is some pickwear on the treble side of the soundhole. There are some small surface cracks on the top near the fingerboard and soundhole, however they do not go all the way through the top.

This guitar is a fantastic deal for someone looking for a premium example of fine old world luthiery at an affordable price. Rarely do you find French made guitars with such highly figured Brazilian rosewood below $4K.


This is the CASH price...add 3% if you'd like to pay with a credit card. 4% for International orders.

| | |
| --- | --- |
| Brand | Anastasio |
| Year | 1990 |
| Model Number | 14 Fret |
| Serial Number | 189D |
| Sound Hole | Oval |
| Fret Neck | 14 Fret |
| Condition | Very Good |
| Size | 15 7/8" |
| Scale Length | 680mm |
| Nut Width | 1 3/4" |
| Top | Spruce |
| Back and Sides | Brazilian Rosewood |
| Neck | Walnut |
| Fingerboard | Ebony |
| Binding | Ebony |
| Finish | Gloss |
| Tailpiece | Anastasio |
| Tuners | Gotoh 3 on a plate (Lyra Style) |
| Action | 3.5mm |
| Strings | Argentine 1510 |
| Case | Hardshell |
| Pickup(s) | Active Bigtone |
| Truss Rod | None |
| Weight | 3.65 lbs |
The original "Wegen" Gypsy Guitar pick. 3.5mm thick, 30mm long, 26mm wide.
The original Gypsy jazz strings! Used by Django Reinhard and nearly every other Gypsy guitarist.
Vintage Django tone for Selmer/Maccaferri oval hole guitars.
Software: Kryptronic eCommerce, Copyright 1999-2019 Kryptronic, Inc. Exec Time: 0.192944 Seconds Memory Usage: 4.614899 Megabytes