1977 Pierre Anastasio ***NEW PRICE!!!***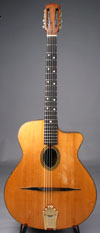 Anastasio
Another winner from one of the great Parisian masters, previously owned by Am Ketenes.
Arts & Entertainment
anastasio-1977
14 Fret
View Offer
DjangoBooks.com
https://www.djangobooks.com/Item/anastasio-1977
1977 Pierre Anastasio ***NEW PRICE!!!***
1977 Pierre Anastasio ***NEW PRICE!!!***
Here's an opportunity to get great vintage sound at a fraction of the price of big names, like Favino, Busato, and Selmer. This wonderful guitar was built by Pierre Anastasio, a major fixture of the Parisian lutherie scene from the 60s through the early 90s. He is most famous for the guitars he built for Angelo Debarre during the early part of his career (one of which he used on the famous Gypsy Guitars CD.) This particular guitar was owned by the extraordinary French Gypsy group Am Ketenes and is featured on the splash page of their website.

This instrument is in very good condition with no cracks or major damage. It does have extensive pick wear and numerous dings on the top. The back of the neck has a number of indents that may have been caused by a thumbnail. The tuners were replaced with a new set of Schallers and the frets are new. The action is on the higher side at 3.6mm but could easily be lowered as there are no neck issues.

The sound of this instrument is really spectacular! It is easily among the loudest Selmer type guitar I've had, which is probably due in part to this guitar's extra long 680mm scale and higher action. It has a bold and confident tone with crisp, mature highs and gutsy, defined lows. The tone is pure Gypsy and has the sort of gusto you'd need for an all night campfire jam. No wonder Am Ketenes made this wonderful guitar their own as it posses the classic jazz manouche tone so coveted by the pros.

This is the CASH price...add 3% if you'd like to pay with a credit card. 4% for International orders.

| | |
| --- | --- |
| Brand | Anastasio |
| Year | 1977 |
| Model Number | 14 Fret |
| Serial Number | None |
| Sound Hole | Oval |
| Fret Neck | 14 Fret |
| Condition | Very Good |
| Size | 16 3/16" |
| Scale Length | 680mm |
| Nut Width | 1 3/4" |
| Top | Spruce |
| Back and Sides | Indian Rosewood |
| Neck | Mahogany |
| Fingerboard | Ebony |
| Binding | Rosewood |
| Finish | Gloss |
| Tailpiece | Gold |
| Tuners | Schaller three on a plate (Gold) |
| Action | 3.6mm |
| Strings | Argentine 1610 |
| Case | Hardshell |
| Pickup(s) | None |
| Truss Rod | None |
| Weight | 3.8 lbs |
The original "Wegen" Gypsy Guitar pick. 3.5mm thick, 30mm long, 26mm wide.
The original Gypsy jazz strings! Used by Django Reinhard and nearly every other Gypsy guitarist.
Vintage Django tone for Selmer/Maccaferri oval hole guitars.
Software: Kryptronic eCommerce, Copyright 1999-2020 Kryptronic, Inc. Exec Time: 0.098108 Seconds Memory Usage: 4.618729 Megabytes