1973 Pierre Anastasio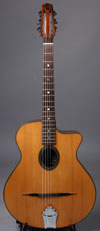 Anastasio
French made vintage guitar for less!
Arts & Entertainment
anastasio-1973
12 Fret
View Offer
DjangoBooks.com
https://www.djangobooks.com/Item/anastasio-1973
1973 Pierre Anastasio
1973 Pierre Anastasio
Here's an opportunity to get great vintage sound at a fraction of the price of big names, like Favino, Busato, and Selmer. This wonderful guitar was built by Pierre Anastasio, a major fixture of the Parisian lutherie scene from the 60s through the early 90s. He is most famous for the guitars he built for Angelo Debarre during the early part of his career (one of which he used on the famous Gypsy Guitars CD.)

Built in 1973, this is one of the earliest Anastasio guitars I have come across. The dimensions are typical Anastasio: 16 1/8" body, 3 11/16" depth, 650mm scale with a 12 fret neck. Back, sides, and neck are mahogany and the fingerboard is rosewood. Tuners have been replaced with a very nice set of Schertler tuners. The neck has been reset and the frets are new. The dot appears to have been moved to the 9th fret at one point and then moved back to the 10th fret which is where it is now.

This guitar looks almost new! It must have been a closet guitar as it has just a few tiny dings and scratches. It has one crack that runs from the soundhole to the tailpiece which has been repaired and is stable.

It is currently strung with 11 gauge Argentine strings and action is set at 3mm.

This instrument posses some very special sonic qualities that one rarely finds in newer guitars. First and foremost, it has a wonderful low mid growl that lends itself well to aggressive, German style rhythm playing. This instrument speaks easily and quickly, with a fast attack and voluminous projection. The low end is full, but tight and the high end is crisp without being overly brash. Without a doubt, an excellent rhythm guitar but also does surprisingly well for lead despite the 12 fret neck and shorter scale.

This is the CASH price...add 3% if you'd like to pay with a credit card. 4% for International orders.

| | |
| --- | --- |
| Brand | Anastasio |
| Year | 1973 |
| Model Number | 12 Fret |
| Serial Number | None |
| Sound Hole | Oval |
| Fret Neck | 12 Fret |
| Condition | Very Good |
| Size | 16 1/8" |
| Scale Length | 650mm |
| Nut Width | 1 3/4" |
| Top | Spruce |
| Back and Sides | Mahogany |
| Neck | Mahogany |
| Fingerboard | Rosewood |
| Binding | Walnut |
| Finish | High Gloss |
| Tailpiece | Nickel |
| Tuners | Schertler Black |
| Action | 3.4mm |
| Strings | Argentine 1510MF |
| Case | Gig Bag |
| Pickup(s) | None |
| Truss Rod | None |
| Weight | 3.65 lbs |
The original "Wegen" Gypsy Guitar pick. 3.5mm thick, 30mm long, 26mm wide.
The original Gypsy jazz strings! Used by Django Reinhard and nearly every other Gypsy guitarist.
Vintage Django tone for Selmer/Maccaferri oval hole guitars.
Software: Kryptronic eCommerce, Copyright 1999-2020 Kryptronic, Inc. Exec Time: 0.082328 Seconds Memory Usage: 4.619484 Megabytes