2022 AJL Model 503 XO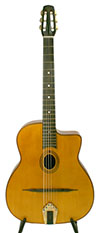 AJL
Nordic builder's top model with a heat treated top and vintage hardware!
Arts & Entertainment
ajl-xo-2022
Model 503 XO
4250.00
DjangoBooks.com
https://www.djangobooks.com/Item/ajl-xo-2022
2022 AJL Model 503 XO
2022 AJL Model 503 XO
Many are surprised to find that some of the best Selmer Maccaferri style guitars in the world are not built in Paris, but rather in the far north of Finland by the skilled luthier Ari-Jukka Luomaranta. Made famous by the legendary Swedish guitarist Andreas Oberg, AJL guitars have found their way into the hands of Gypsy jazz guitarists worldwide. AJL is known for his meticulous attention to detail, deep knowledge of traditional building techniques, and replica hardware which is second to none.

This is AJL's most popular model to date, the XO which features a special heat treated Thermotimber spruce top that simulates the tonal qualities of vintage instruments. The result is a guitar which looks and sounds like a mature sixty-year-old instrument.

The design is pure Selmer, with a 15 3/4" body, 670mm scale, spruce top, Brazilian rosewood back and sides, and a walnut neck with the traditional grafted headstock. This guitar is outfitted with AJL's beautiful vintage tailpiece and closed tuners. The interior is lacquered and the top features a heat bent pliage.

This instrument projects exceptionally well, with the cutting highs you'd expect of a vintage Selmer. The bass response is clear but not overbearing and the mids are well developed and focused. These characteristics make it exceptionally good at producing single note leads in unamplified situations. If you're looking for a guitar with brilliant highs and a nice crunchy rhythm sound, this is it!

This guitar comes with one of AJL's amazing ultra slim, ultra strong flight cases. It's so small you'd hardly believe the guitar could fit in there...and is so strong that Andreas can stand on it with out damaging the guitar inside (I'm serious, he tried it).

This guitar was built just last year and has only a few hours of playing time on it and is in perfect mint condition. It is nicely discounted and is generally a nice deal as French made guitars with similar features easily run over $6K.

This is the CASH price...add 3% if you'd like to pay with a credit card. Add 4% for international credit card orders.
| | |
| --- | --- |
| Brand | AJL |
| Year | 2022 |
| Model Number | Model 503 XO |
| Serial Number | 0122 |
| Sound Hole | Oval |
| Fret Neck | 14 Fret |
| Condition | Mint |
| Size | 15 3/4" |
| Scale Length | 670mm |
| Nut Width | 1 3/4" |
| Body Depth | 4 1/16" |
| Top | Spruce |
| Back and Sides | Brazilian Rosewood |
| Neck | Walnut |
| Fingerboard | Ebony |
| Binding | Ebony |
| Finish | Antique |
| Tailpiece | AJL Gold |
| Tuners | AJL Gold |
| Action | 2.8mm |
| Strings | Argentine 1510 |
| Case | AJL |
| Pickup(s) | None |
| Truss Rod | Yes |
| Weight | 4.05 lbs |
Software: Kryptronic eCommerce, Copyright 1999-2023 Kryptronic, Inc. Exec Time: 0.146178 Seconds Memory Usage: 3.777534 Megabytes