2010 AJL Favino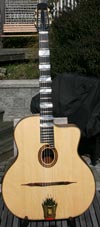 Default Manufacturer
AJL's interpretation of the Enrico Macias Favino, features birdseye maple back and sides and classic Favino tone.
Arts & Entertainment
ajl-favino
9999
View Offer
DjangoBooks.com
https://www.djangobooks.com/Item/ajl-favino
2010 AJL Favino
2010 AJL Favino
2010 Favino copy made by Finnish luthier
Ari-Jukka Luomaranta. This Enrico Macias Favino style guitar was built expressly for NYC based rhythm guitarist extraordinaire Ted Gottsegen. This custom guitar features:

-Birdseye maple back, sides, and neck
-Bear claw spruce top
-Ebony fingerboard and binding
-AJL enclosed tuners
-MOP "Parisian style" block inlays
-675mm scale
-16 1/2" body
-JP Favino style fingerboard extension

This guitar posses a bold and robust tone with lots of projection and character. It's not a nasal sounding Favino, but a bit more balanced with crisp highs and a lot of openness. Chords sound bigger than life and leads are clear but sweet. Like most Favinos, it has a very full bass register which is particularly nice when playing rhythm.

It has a typical Favino setup with 3.2mm action and 10 gauge Argentine strings. Plays very easily with this setup but can also accommodate heavier strings and higher/lower action if need be. Two additional bridges are included so multiple setups are possible. All bridges have compensation for the E and B strings.

This guitar comes with one of AJL's amazing ultra slim, ultra strong flight cases. It's so small you'd hardly believe the guitar could fit in there...and is so strong that heavy weight Andreas Oberg (another AJL endorser) can stand on it with out damaging the guitar inside (I'm serious, he tried it).


Condition is excellent. There are a several small dings in the top, a bit binding chipped off close to the fingerboard, and a minimal amount of fret wear. Otherwise, this guitar could pass for new.

This custom guitar would cost over $5000 if ordered new. This barely used one is a fantastic deal at this price!


This is the CASH price...add 3% (4% for International orders) if you'd like to pay with a credit card
Software: Kryptronic eCommerce, Copyright 1999-2019 Kryptronic, Inc. Exec Time: 0.09988 Seconds Memory Usage: 4.501999 Megabytes