2007 AJL Model Andreas Oberg Deep Purple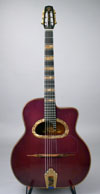 AJL
Andreas Oberg signature model with Favino specs!
Arts & Entertainment
ajl-deep-purple-oberg
Model Andreas Oberg Deep Purple
View Offer
DjangoBooks.com
https://www.djangobooks.com/Item/ajl-deep-purple-oberg
2007 AJL Model Andreas Oberg Deep Purple
2007 AJL Model Andreas Oberg Deep Purple
This Andreas Oberg signature model guitar was made by Finnish luthier Ari-Jukka Luomaranta. This one of a kind instrument was built to Andreas' specs with the goal of producing an instrument with rounded highs, a deep bass response, and lots of volume. There's no doubt that AJ succeeded in producing a guitar with these qualities as this instrument posses a rich, and satisfying tone that fills the room. Chords sound bigger than life and leads are snappy but sweet. Like most Favinos, it has a very full bass register which is particularly nice when playing rhythm.

Andreas recorded and performed with this instrument for several years (see the video tab for clips of him playing it.) The interior of the guitar was personally signed by him and an autographed card of authenticity is also included.

AJ based this guitar on the Favino design. It has the larger body you'd expect of a Favino although it measures 16 3/4" at the lower bout which is even bigger than Favino's normal 16 1/2" size.

This instrument is outfitted with AJ's very nice looking vintage replica tuners and tailpiece. The neck is adorned with "Parisian style" imitation abalone block inlays. The rosette is also made from imitation abalone. The interior in lacquered. There is a strap pin the heel.

The action is currently set at an astonishingly low 2.2mm. It's rare a Gypsy guitar of any kind has action anywhere near this low. Of course, it plays very easily with the action this low and surprisingly is mostly buzz free. An additional higher bridge is included so multiple setups are possible.

This guitar comes with one of AJL's amazing ultra slim, ultra strong flight cases. It's so small you'd hardly believe the guitar could fit in there...and is so strong that Andreas can stand on it with out damaging the guitar inside (I'm serious, he tried it).

There are numerous signs that this guitar was heavy played during it's life. The body has many scratches and dings and there is some heavy pickwear on the treble side of the soundhole. There is some light checking of the finish in places. The frets are worn but still have a year or two of life left in them.

This is the CASH price...add 3% if you'd like to pay with a credit card. Add 4% for international credit card orders.
| | |
| --- | --- |
| Brand | AJL |
| Year | 2007 |
| Model Number | Model Andreas Oberg Deep Purple |
| Serial Number | Deep Purple 2007 |
| Sound Hole | D Hole |
| Fret Neck | 14 Fret |
| Condition | Good |
| Size | 16 3/4" |
| Scale Length | 670mm |
| Nut Width | 1 3/4" |
| Top | Spruce |
| Back and Sides | Birdseye Maple |
| Neck | Maple (Three Piece) |
| Fingerboard | Ebony |
| Binding | Rosewood |
| Finish | Deep Purple |
| Tailpiece | AJL Gold |
| Tuners | AJL Gold |
| Action | 2.2mm |
| Strings | Argentine 1610MF |
| Case | AJL |
| Pickup(s) | None |
| Truss Rod | Yes |
| Weight | 4.35 lbs |
Software: Kryptronic eCommerce, Copyright 1999-2019 Kryptronic, Inc. Exec Time: 0.100731 Seconds Memory Usage: 4.507515 Megabytes