1970s Gypsy Mystery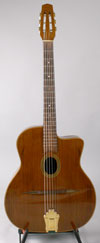 Mystery
Nicely made guitar with a Francis Breton label.
Arts & Entertainment
1970-mystery
Mystery
View Offer
DjangoBooks.com
https://www.djangobooks.com/Item/1970-mystery
1970s Gypsy Mystery
1970s Gypsy Mystery
This wonderful sounding guitar appears to have been made sometime in 1970s. When, where, or who made it are a mystery as the design and workmanship do not correspond closely to any of the luthiers known to be working at that time. It does have an "F. Breton" label which doesn't tell us much as Breton is a public domain brand name that has been used in France for centuries, most notably by the Mirecourt based violin maker J.Thibouville-Lamy (circa 1870). The label appears to have been an afterthought, probably added later by one of this guitars previous owners.

This instrument features a short scale (650mm), 14 fret design which makes it ideal for those who find the more common longer scale guitars difficult to manage. Other unique design features include an elongated headstock, a four brace top, and an extra deep 4 3/16" body. The top appears to be redwood and the back and sides are some sort of figured hardwood which I haven't been able to identify. There is a piezo sensor mounted to the underside of the top which is wired to the endpin jack.

The strong high end response of this guitar makes it excellent for lead playing. Single notes project easily, possessing a bright singing quality that allows you to relax and just let the music happen. Despite the large body and short scale of this instrument, the bass response is quite subdued with most of the sound being focused in the highs and mids. For that reason, chords are defined and focused with no low end muddiness.

The condition of this instrument is very good. There are two top cracks. One on the bass bout is rather long and isn't cleated. It appears that some glue was used to seal it and it seems stable. The internal braces look almost new which makes we wonder if they were recently replaced. The frets have some wear but still have a few years of life left in them. There are numerous scratches and dings on the body but nothing serious.

This guitar is a great alternative to Asian student models. Priced below $2K, this instrument offers one the chance to own a vintage handmade guitar for the price of a factory made import.

This is the CASH price...add 3% if you'd like to pay with a credit card. Add 4% for international credit card orders.
| | |
| --- | --- |
| Brand | Mystery |
| Year | 1970s |
| Model Number | Mystery |
| Serial Number | None |
| Sound Hole | Oval |
| Fret Neck | 14 Fret |
| Condition | Good |
| Size | 15 3/4" |
| Scale Length | 650mm |
| Nut Width | 1 11/16" |
| Top | Redwood |
| Back and Sides | Unkown |
| Neck | Unkown |
| Fingerboard | Rosewood |
| Binding | Ebony |
| Finish | Vintage |
| Tailpiece | Gold |
| Tuners | Schaller three on a plate |
| Action | 2.8mm |
| Strings | Argentine 1610 |
| Case | TKL Hardshell |
| Pickup(s) | Piezo top mount |
| Truss Rod | None |
| Weight | 3.95 lbs |
Software: Kryptronic eCommerce, Copyright 1999-2019 Kryptronic, Inc. Exec Time: 0.122334 Seconds Memory Usage: 4.501907 Megabytes