1940s Gypsy Mystery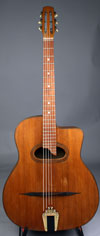 Mystery
Great sounding mystery guitar from the Golden Era of French luthiery!
Arts & Entertainment
1940-mystery-2
Mystery
View Offer
DjangoBooks.com
https://www.djangobooks.com/Item/1940-mystery-2
1940s Gypsy Mystery
1940s Gypsy Mystery
This nice sounding pompe guitar bears many of the characteristics of instruments built by the great Franco-Sicilian luthiers. Although I can't positively identify who made this instrument, it very well could have been built by Busato or by any of a number of other immigrant run shops active at the time. The one piece, braceless, bent back; distinctive D hole shape; long headstock shape; and neck design is reminiscent of the work of numerous Italian immigrant luthiers of the era. This lableless guitar was a "players" model, devoid of the higher grade woods and hardware that made the high end models more expensive. Instead, it's simple design produces the perfect rhythm sound without and other unnecessary fanfare. Very straightforward and simple, just what players on a budget need!

This instrument has had significant restoration work done, including a new fingerboard and frets, a neck reset, a new bridge and moustache pieces, and a new tailpiece. Some of the outer layer of the side laminate around the tailpiece had cracked off and was replaced. The inner layer is intact and completely undisturbed. Also, about 50% of the #3 brace is missing. The top is stable so there's no major concern, but at some point that brace may need to be replaced.

Even the most modest guitars experience the same magic aging process that makes the high dollar Selmer and Busatos sound so incredible. This spunky little guitar is no exception as it has the wonderfully clear, dry tone and astounding projection that only guitars with 60+ years of age can produce. It is an absolute joy to play rhythm on this instrument as it's direct and crunchy tone produces a tight, clear rhythm sound that is just perfect for jazz manouche. Additionally, it is surprisingly easy to play with the action set at a slinky 2.4mm. The low tension feel of this guitar will allow you to play pompe all night long without fatigue or discomfort.

It's rare I have vintage guitars under $3K, even rarer to have one at almost $1K! This is a rare opportunity to own a guitar with great vintage sound for less.


This is the CASH price...add 3% if you'd like to pay with a credit card. Add 4% for international credit card orders.



| | |
| --- | --- |
| Brand | Mystery |
| Year | 1940s |
| Model Number | Mystery |
| Serial Number | None |
| Sound Hole | D Hole |
| Fret Neck | 12 Fret |
| Condition | Fair |
| Size | 15 1/2" |
| Scale Length | 630mm |
| Nut Width | 1 3/4" |
| Top | Spruce |
| Back and Sides | Mahogany |
| Neck | Walnut |
| Fingerboard | Rosewood |
| Binding | Ebony |
| Finish | Vintage |
| Tailpiece | Saga |
| Tuners | Three on a plate |
| Action | 2.4mm |
| Strings | Argentine 1610 |
| Case | Solutions Gig Bag |
| Pickup(s) | None |
| Truss Rod | None |
| Weight | 3.35 lbs |
Software: Kryptronic eCommerce, Copyright 1999-2020 Kryptronic, Inc. Exec Time: 0.171865 Seconds Memory Usage: 4.507179 Megabytes