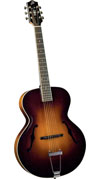 The Loar
Inspired by the pioneering designs of the Golden Age, guitars and mandolins by The Loar combine expert craftsmanship and classic designs with upgraded features to appeal to today's players. From premium hand-carved tonewoods to original inlay de
The Loar
The Loar
Inspired by the pioneering designs of the Golden Age, guitars and mandolins by The Loar combine expert craftsmanship and classic designs with upgraded features to appeal to today's players. From premium hand-carved tonewoods to original inlay detailing, each instrument is made for the best sound, playability and timeless beauty. The Loar pays homage to instruments from the 1920's and 30's, an age of outstanding craftsmanship and innovative design. We revive this tradition in order to bring you some of the best-sounding, most beautifully crafted instruments available today.
The LH-309 archtop is the perfect blend of vintage vibe and modern value.
$866.99
$749.99
(Save 13%)
Modeled after American designs from the early 20th century, The Loar's LH-600 archtop guitar is carved from select, graduated woods for unparalleled acoustic projection.
$1,466.00
$1,099.00
(Save 25%)
Experience the glorious sound of a handcarved archtop. Great for swing and Gypsy jazz alike!
$1,999.99
$1,749.99
(Save 13%)
Denotes items that always ship for free. No shipping charges are calculated for Free Shipping items. Free shipping only applies to domestic orders. International orders are subject to shipping fees.
Software: Kryptronic eCommerce, Copyright 1999-2023 Kryptronic, Inc. Exec Time: 0.462886 Seconds Memory Usage: 4.375519 Megabytes