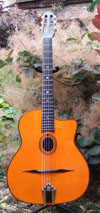 Manouche
Manouche Guitars are produced in Europe and Asia and are what many believe to be the most authentic sounding 'Model Jazz Selmer' replica guitar available today. Using the original Selmer drawing plans, over 30 years listening and playi
Manouche
Manouche
Manouche Guitars are produced in Europe and Asia and are what many believe to be the most authentic sounding 'Model Jazz Selmer' replica guitar available today.
Using the original Selmer drawing plans, over 30 years listening and playing experience of classic Selmer guitars, and first class manufacturing techniques, Manouche have faithfully reproduced not only the sound and look of the original Selmer Model Jazz guitar, but also the 'feel' of the instrument.

Authenticity has been Manouche's motivation from day one and no detail has been overlooked in the making of these beautiful instruments!
Software: Kryptronic eCommerce, Copyright 1999-2021 Kryptronic, Inc. Exec Time: 0.511386 Seconds Memory Usage: 4.281197 Megabytes