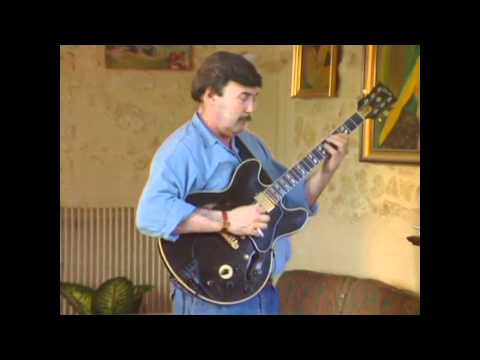 Babik Reinhardt, second son of legendary Django Reinhardt, playing a Guitar Synth at home. Footage from the "Nuages" documentary of 1991.
Several paintings by Django Reinhardt can be seen on the walls.
Babik's son; David, also appears briefly.
______________________________________________
David Reinhardt, born on the 23th of December 1986, grew up to become a skilled Gypsy Jazz guitarist, having recorded several albums as of 2011. Although mostly on electric guitar, David is following the more traditional Jazz Manouche traditions, playing Django's music and following his Grandfather's footsteps more, as opposed to his father; Babik, who preferred playing Jazz Fusion non-commercially.
______________________________________________
Babik played strictly Jazz Manouche in early years, but changing his style radically after hearing Wes Montgomery, Tal Farlow, John Coltrane and the like, eventually gaining a profound love of Jazz Fusion and Fusion in its entirety.
Babik was born on the 8th of june in 1944 and was given a guitar by his father Django at age 3. Although Django had hoped Babik would become a pianist, as he thought they had an easier time making a living, that did not come to pass. Django died in 1953 when Babik was 15 years old. Babik made his first record in 1967 and continued to make a handful of albums (mostly tributes to his father) until his death from a heart attack in 2001 at age 57.
Babik preferred playing the electric guitar as opposed to the acoustic, and his son David seems to have inhereted his father's love for the instrument.