La Pompe, my guide to it! Or, how i taught my friend
So recently i was sitting on Discord with my friend who plays cello. He was/is interested in learning how to play gypsy guitar(I have already helped him for some time with just some basic guitar playing). So i helped him a little, and because of his cello experience he picks up the left hand pretty quick and the right hand also(The next Sebastien Giniaux?) And that night he said to me something that roughly translates to if: i can play just basic la pompe that would be really awesome and we could play together.
So, I told him give it your best shot :P
The rythm was really bad but it's what i expected. There was to much emphasis on the upstroke and on beat 1 he only hit 1-2 strings. So i immediately said, Ok, cut out the upstroke. We can add that later! And then to fix him only hitting 1-2 strings on the first beat. I just said, play straight. So no accent on the 2 and 4. Hit all the strings. It doesn't matter if u don't hit the e string or b string. He does that. Then i said just keep doing it but now just hit a little harder on beat 2 and 4, just give it a slight accent! And it actually sounded good. He struggled to maintain it though haha. So i showed him the rest of the chords of minor swing(simple chords, just shift the Am6 to Dm6 and the E7 with only 3 notes) Told him to practice them a little so he can play them in the right order.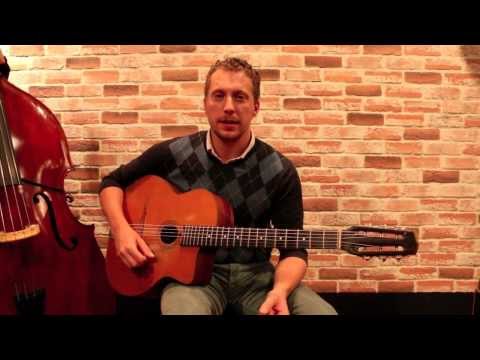 Then i showed him this video and told him to play along and try to emulate what Adrien is doing
And after a week or so of practice his La Pompe is actually sounding good to me in my ears!
So i just wrote this so if people look up something about La Pompe on the forum, they kind of have a guide and see how i taught my friend. Anyway, if you guys have anything to add please feel free to do so!
David
Tagged: