Hi Gypsy Friends,
Excited to list a very special instrument: a
1972 Jacques Favino (Model 10), #205
.
This guitar doesn't need too much of an introduction. Jacques Favino is a builder with stradivarius-like stature. 1972 is squarely in his "golden era" - btwn 1965 and 1975.
This guitar has a bunch of highly desirable features, including an exceptionally rare original cherry tint neck, 9th-fret dot, metal SB tuner buttons, and top shelf EIR (the orangey-colored rosewood is the best). 5 of 6 original tuners, and original tailpiece.
Most importantly - sounds incredible. Here's Joscho, Mozes, and Benji Winterstein with it: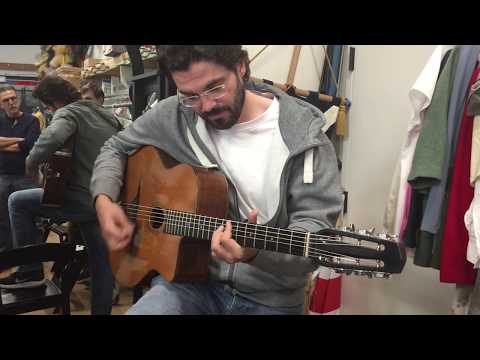 (if you forward to 1:58, you can see Benji say "my god" after playing it).
The instrument is also listed on Reverb, but would be happy to give a much better price to folks on the forum. Please message me for pricing or add'l info.
Not in a particular rush to sell, but would love to suss out if there's a great future parent out there!
Thanks,
- Spencer